---
The Chronicles of Narnia: Prince Caspian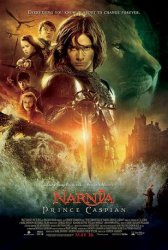 Starring: Ben Barnes, Georgie Henley, Skandar Keynes, William Moseley, Anna Popplewell, Sergio Castellitto
Director: Andrew Adamson
Release Date:

May 16th, 2008
Release Date:

26th June, 2008
Synopsis: The four Pevensie children return to Narnia, only to discover that hundreds of years have passed since they ruled there, and the evil King Miraz has taken charge. With the help of a heroic mouse called Reepicheep, and the exiled heir to the throne, Prince Caspian, they set out to overthrow the King, once again with Aslan's help.
Status:
The Chronicles of Narnia: Prince Caspian Movie Trailer
About the Movie
The Chronicles of Narnia: Prince Caspian is a 2008 epic fantasy film based on Prince Caspian, the second published, fourth chronological novel in C. S. Lewis's epic fantasy series, The Chronicles of Narnia. It is the second in The Chronicles of Narnia film series from Walden Media, following The Chronicles of Narnia: The Lion, the Witch and the Wardrobe (2005). The four Pevensie children (William Moseley, Anna Popplewell, Skandar Keynes, and Georgie Henley) return to Narnia to aid Prince Caspian (Ben Barnes) in his struggle for the throne against his corrupt uncle, King Miraz (Sergio Castellitto). The film was released on May 16, 2008 in the United States, in Australia on June 5, 2008, and on June 26, 2008 in the United Kingdom.
Prince Caspian is also the last Narnia film distributed by Walt Disney Pictures, as it was announced in January 2009 that Disney will no longer distribute the Narnia film series due to 20th Century Fox taking over the film series. Work on the script began before The Lion, the Witch and the Wardrobe was released, so filming could begin before the actors grew too old for their parts. Director Andrew Adamson wanted to make the film more spectacular than the first, and created an action sequence not in the novel to up the ante. The Narnians were designed to look wilder as they have been hiding from persecution, stressing the darker tone of the sequel. The filmmakers also took a Spanish influence for the antagonistic race of the Telmarines. Filming began in February 2007 in New Zealand, but unlike the previous film, the majority of shooting took place in Central Europe, because of the larger sets available in those countries. To keep costs down, Adamson chose to base post-production in the UK, because of recent tax credits there.
While the film was not considered a success in the United States and Canada with a gross of $141 million it did make $278 million in the rest of the world, while costing $225 million to produce.
---
'The Chronicles of Narnia: Prince Caspian' Stars
Andrew Adamson, Anna Popplewell, Ben Barnes, Georgie Henley, Sergio Castellitto, Skandar Keynes, William Moseley
---
'The Chronicles of Narnia: Prince Caspian' Movie Links

The Chronicles of Narnia: Prince Caspian on IMDb