---
The Expendables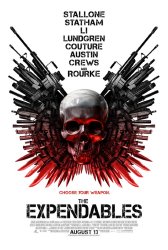 Starring: Sylvester Stallone, Jason Statham, Jet Li, Dolph Lundgren, Randy Couture, Steve Austin, Terry Crews, Mickey Rourke
Director: Sylvester Stallone
Release Date:

August 13th, 2010
Release Date:

19th August, 2010
Synopsis: A hard-hitting action/thriller about a group of mercenaries hired to infiltrate a South American country and overthrow its ruthless dictator. Once the mission begins, the men realize things arent quite as they appear, finding themselves caught in a dangerous web of deceit and betrayal. With their mission thwarted and an innocent life in danger, the men struggle with an even tougher challenge one that threatens to destroy this band of brothers.
Status:
The Expendables Movie Trailer
About the Movie
The Expendables is an upcoming ensemble action film written by David Callaham and Sylvester Stallone, and directed by Stallone. Filming began on March 28, 2009, in Rio de Janeiro, New Orleans, and Los Angeles and is expected to be released on August 13, 2010. The film pays tribute to the blockbuster action films of the 1980s and early '90s, and stars an array of action veterans from those decades (such as Stallone himself, Dolph Lundgren, Arnold Schwarzenegger, Jet Li, Bruce Willis and Mickey Rourke).
---
'The Expendables' Stars
Dolph Lundgren, Jason Statham, Jet Li, Randy Couture, Steve Austin, Sylvester Stallone, Terry Crews
---
'The Expendables' Movie Links

Official The Expendables Movie Website


The Expendables on IMDb