---
The Human Centipede (First Sequence)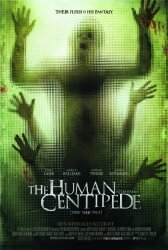 Starring: Dieter Laser, Ashley C. Williams, Ashlynn Yennie, Akihiro Kitamura, Andreas Leupold, Peter Blankenstein
Director: Tom Six
Release Date:

April 30th, 2010
Release Date:

20th August, 2010
Synopsis: Two pretty American girls are on a road trip through Europe. In Germany they end up alone at night with a broken car in the woods. They search for help and find an isolated villa. The next day they awake to find themselves trapped in his terrifying makeshift basement hospital along with a Japanese man. An older German man identifies himself as a retired surgeon specialized in separating Siamese twins. However his three "patients" are not about to be separated, but joined together in a horrific operation. He plans to be the first person to connect people via their gastric system, in doing so bringing to life his sick lifetime fantasy "the human centipede".
Status:
The Human Centipede (First Sequence) Movie Trailer
About the Movie
The Human Centipede (First Sequence) is a 2010 horror film starring Ashley C. Williams, Ashlynn Yennie, Akihiro Kitamura and Dieter Laser, directed by Tom Six. It tells the story of a crazed doctor who surgically joins three victims together, mouth to anus, to create a "human centipede". The film has won several awards at international horror film festivals, but has received mixed reviews from critics.
---
Movie Reviews
Movie Review from EmpireOnline.com

Yes — This film really is about what you've heard it's about. A sinister European scientist (Dieter Lasar) sews two American tourists (Ashley C. Williams, Ashlynn Yennie) and a Japanese chap (Akihiro Kitamura) together mouth-to- anus to create the eponymous composite creature… and, inevitably, there's a scene where the one in the lead can't hold his bowels. However, once you get past the transhuman gross-out, this is a surprisingly conventional mad scientist movie.

Read the Full Movie Review at EmpireOnline.com
Movie Review from TotalFilm.com

In Human Centipede, the porno phrase takes on a yucky new meaning as a German doc (Dieter laser) grafts two chicks and a dude together to create a "human centipede", stitched mouth to anus, mouth to anus. It really sucks to be the last person in that conga train…
Whizzing straight out of leftfield, Dutchman tom Six's instant-cult-flick is laced with a high-concept vision of inhumanity. It's a balls-out exploitation flick; grubby, sadistic and, given the tiny budget, expertly put together.

Read the Full Movie Review at TotalFilm.com
Movie Review from Movies.com

If you think you don't want to go see this movie then you shouldn't. You can trust your instincts. But if you're the kind of horror fan who likes it when boundaries are crossed and a film leaves you puzzled as to whether you're supposed to laugh or feel sick inside or both, then get yourself to whatever weirdo theater you can find that's showing it. Filmmaker Tom Six takes the old-school David Cronenbergian idea of the body as a horror all its own and pumps it full of depraved new life. It's as if every moment of screen time he asked, "What's the worst possible thing that could happen to these people right now?" And then he did it to them.

Read the Full Movie Review at Movies.com
Movie Review from Telegraph.co.uk

Have you ever wondered what it would be like to take three human beings and sew them all together via their digestive tracts? Wonder no longer! In the slightly misleadingly titled The Human Centipede (misleading for shouldn't it feature 30 legs, not merely six?) Dutchman Tom Six has written and directed the world's first Siamese-triplet movie.
In case you were unsure: it's a horror film.

Read the Full Movie Review at Telegraph.co.uk
---
'The Human Centipede (First Sequence)' Stars
Akihiro Kitamura, Andreas Leupold, Ashley C. Williams, Ashlynn Yennie, Dieter Laser, Peter Blankenstein, Tom Six
---
'The Human Centipede (First Sequence)' Movie Links

The Human Centipede (First Sequence) on IMDb