---
The Inbetweeners Movie (2011)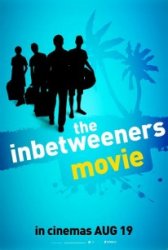 Starring: Simon Bird, James Buckley, Blake Harrison, Joe Thomas, Laura Haddock, Emily Head
Director: Ben Palmer
Release Date:

November 25th, 2011
Release Date:

17th August, 2011
Running Time: 97 Mins
Synopsis: Four socially troubled 18-year-olds from the south of England go on holiday to Malia.
Status:
About the Movie
The Inbetweeners Movie is a 2011 British comedy film directed by Ben Palmer, who directed all six episodes of the second series of The Inbetweeners, and produced by Christopher Young who produced all three series of the TV show. The film follows the four main characters on holiday in Malia, Crete. Filming began on 6 February 2011 with filming beginning in Mallorca, Spain on 19 February 2011. It stars Simon Bird, Joe Thomas, James Buckley and Blake Harrison. It was released in the UK on 17 August 2011 and in the US on 25 November 2011.
---
Movie Reviews
Movie Review from EmpireOnline.com

Let's be honest, you can count great UK youth flicks on one hand. So Olly Murs hats off, then, to The Inbetweeners Movie, an upgrade for the E4 teen comedy that matches the gag rate of any film this summer and delivers it with the panache of the Yanks but the scatological feel of the best of Brit comedy. If you have Kevin & Perry Go Large in your head, forget it. This is much closer to Superbad. But with more vag jokes.

Read the Full Movie Review at EmpireOnline.com
Movie Review from TotalFilm.com

The lads go on holiday but the laughs stay at home in this disappointing postscript to E4's mint teen comedy, a hastily assembled spin-off with little of the flair and wit of its small-screen predecessor. In transplanting geeky Will, soppy Simon, vulgar Jay and dopey Neil from their suburban schoolyard to the Cretan resort of Malia, director Ben Palmer proves a change of scene is not necessarily as good as a rest.

Read the Full Movie Review at TotalFilm.com
Movie Review from Guardian.co.uk

They could have called it British Pie, but this TV sitcom spin-off updates the teen summer holiday formula surprisingly entertainingly, considering it doesn't subvert it one iota. Most of that entertainment value is at the expense of our four naive suburban teen heroes, who embark on a post-sixth form Mediterranean jaunt with impossibly high hopes. "It'll be like shooting clunge in a barrel," one of them delicately puts it, which proves to be far from the case.

Read the Full Movie Review at Guardian.co.uk
Movie Review from TimeOut.com

It's pretty much as feared: while Channel 4's 'The Inbetweeners' series delivers plenty of laughs in quickfire half-hour spurts, it fails miserably as big-screen comedy. For those new to the show, 'The Inbetweeners' is a crude, lewd but very funny sitcom about four 'clunge'-obsessed but socially inadequate teen schoolkids and their dick-led adventures with members of the opposite sex. The lads rarely venture beyond the confines of suburban London, but for this disappointing film outing they finance a lads' holiday to Crete with some inherited cash.

Read the Full Movie Review at TimeOut.com
Movie Review from Telegraph.co.uk

If you haven't made the acquaintance of E4's filthy and sexually desperate sitcom The Inbetweeners, the big-screen spin-off should probably be approached with caution. Not unlike herpes. It has two different gag ratios — the laughter one, and the urge-to-spew one. Both are high. Often they're simultaneous. It follows the old let's-send-them-on-holiday template much loved of TV-to-film transfers, leaving its quartet of horny teens awash in vile blue fishbowl cocktails, and putting cringe-inducing moves on anything in a bikini.

Read the Full Movie Review at Telegraph.co.uk
---
'The Inbetweeners Movie' Stars
Ben Palmer, Blake Harrison, Emily Head, James Buckley, Joe Thomas, Laura Haddock, Simon Bird
---
'The Inbetweeners Movie' Movie Links

The Inbetweeners Movie on IMDb


The Inbetweeners Movie on Wikipedia