---
The Kids Are All Right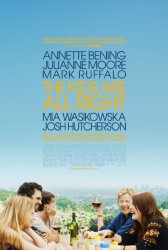 Starring: Annette Bening, Julianne Moore, Mark Ruffalo, Mia Wasikowska, Josh Hutcherson, Yaya DaCosta
Director: Lisa Cholodenko
Release Date:

July 30th, 2010
Release Date:

29th October, 2010
Synopsis: Two teenaged children conceived by artificial insemination get the notion to seek out their birth father and introduce him into the family life that their two mothers have built for them. Once the donor is found, the household will never be the same, as family ties are defined, re-defined, and then re-re-defined.
Status:
The Kids Are All Right Movie Trailer
About the Movie
The Kids Are All Right is a 2010 American comedy-drama film directed by Lisa Cholodenko who together with Stuart Blumberg wrote the screenplay. The story centers on a lesbian couple, Jules (Julianne Moore) and Nic (Annette Bening), who each gave birth to a child using the same anonymous sperm donor. When the older child, Joni (Mia Wasikowska), turns eighteen, her brother Laser (Josh Hutcherson), asks her to contact the sperm bank in order to meet their biological father, Paul (Mark Ruffalo). On January 25, 2010, the film premiered at the Sundance Film Festival becoming one of the event's breakout hits. It opened in limited release on July 9, 2010, expanding to more theaters in the following weeks. It is set for release on DVD and Blu-ray on November 9, 2010.
---
Movie Reviews
Movie Review from EmpireOnline.com

Julianne Moore and Annette Bening as lesbian life partners: it's a compelling proposition from the off. They make an instantly convincing couple in this comedy-drama that would work almost as well without the gender twist. The challenges of child-rearing have put a subtle strain on the relationship between Nic (Bening) and Jules (Moore) — and the gap only widens when sperm donor Paul (Mark Ruffalo) comes into the picture. Hard-working Nic is wary of the intruder, but free-spirited Jules shares a cautious rapport with him.

Read the Full Movie Review at EmpireOnline.com
Movie Review from TotalFilm.com

Annette Bening should start looking for a new frock – by rights, she will be pulling her best 'humble' face come award season. She's the lynchpin of Lisa Cholodenko's funny, moving and insightful study of bittersweet family dynamics, which shines with a truthfulness that transcends the demographic or sexual orientation of the audience. Because it would be easy to pigeonhole Kids (on synopsis alone) as aimed purely at the right-on middle classes. We're invited into the bourgeois home of brittle, busy doctor Nic (Bening) and her hippy wife Jules (Julianne Moore) as their donor-sperm kids begin to question their genesis.

Read the Full Movie Review at TotalFilm.com
Movie Review from Hollywood.com

Despite loads of buzz and thumbs up from national critics, Lisa Cholodenko's The Kids Are All Right may suffer the aforementioned fate and end up being too little, too soon. The film, which centers on the dilemma that Nic and Jules, a lesbian couple living in California, face when the sperm donor who fathered their children enters their lives at their kids' request, is enjoyable entertainment for adults and will be easy to digest for most audiences. My problem with the movie is that it was too easy to digest.

Read the Full Movie Review at Hollywood.com
Movie Review from Guardian.co.uk

Unlike the grownups – who, frankly, are a bit of a mess. Lisa Cholodenko's sparkling picture is an easygoing comedy of emotional difficulty, a witty portrait of postmodern family life in which script, casting, direction and location all just float together without any apparent effort at all. Annette Bening and Julianne Moore play Nic and Jules, a cultured LA gay couple – a little absurd, perhaps, but with absurdities to be laughed with, rather than at.

Read the Full Movie Review at Guardian.co.uk
Movie Review from TimeOut.com

It's the warm, wise humour of 'The Kids Are All Right' that distinguishes it from the pack, even more so than American writer and director Lisa Cholodenko's decision to make a funny, mainstream drama about a pair of lesbian mothers and what happens when their two teenage children invite the anonymous sperm donor who is their biological father into their comfortable, progressive lives in sunny, suburban California. The two mothers in question – or 'mumses', as their kids call them – are Nic (Annette Bening) and Jules (Julianne Moore).

Read the Full Movie Review at TimeOut.com
Movie Review from Movies.com

Nobody ever said marriage and parenthood were easy. In her third feature film, writer-director Lisa Cholodenko (co-scripting with Stuart Blumberg) lets everyone share in the modern domestic struggle, whether gay or straight, married or single, parent or child. That she does so with such precision and sympathy is what makes The Kids Are All Right resonate and linger; the familial dynamics are familiar, even if you're not a part of an unconventional yippie Los Angeleno brood.

Read the Full Movie Review at Movies.com
---
'The Kids Are All Right' Stars
Annette Bening, Josh Hutcherson, Julianne Moore, Lisa Cholodenko, Mark Ruffalo, Mia Wasikowska, Yaya DaCosta
---
'The Kids Are All Right' Movie Links

The Kids Are All Right on IMDb