---
American Beauty (1999)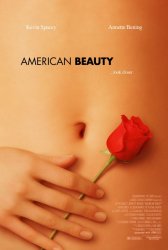 Starring: Kevin Spacey, Annette Bening, Thora Birch, Allison Janney, Peter Gallagher, Wes Bentley, Mena Suvari, Chris Cooper
Director: Sam Mendes
Release Date:

October 1st, 1999
Release Date:

4th February, 2000
Synopsis: Lester and Carolyn Burnham are on the outside, a perfect husband and wife, in a perfect house, in a perfect neighborhood. But inside, Lester is slipping deeper and deeper into a hopeless depression. He finally snaps when he becomes infatuated with one of his daughter's friends. Meanwhile, his daughter Jane is developing a happy friendship with a shy boy-next-door named Ricky, who lives with a homophobic father.
Status:
American Beauty Movie Trailer
About the Movie
American Beauty is a 1999 American drama film directed by Sam Mendes and written by Alan Ball. Kevin Spacey stars as Lester Burnham, a middle-aged office worker who has a midlife crisis when he becomes infatuated with his teenage daughter's best friend. Annette Bening stars as Lester's materialistic wife, Carolyn, and Thora Birch plays their insecure daughter, Jane; Mena Suvari, Wes Bentley, Chris Cooper and Allison Janney also feature. The film has been described by academics as a satire of American middle class notions of beauty and personal satisfaction; analysis has focused on the film's explorations of romantic and paternal love, sexuality, beauty, materialism, self-liberation and redemption.
Released in North America on September 15, 1999, American Beauty was positively received by critics and audiences alike; it was the best-reviewed American film of the year and grossed over $350 million worldwide. Reviewers praised most aspects of the production, with particular emphasis on Mendes, Spacey and Ball; criticism tended to focus on the familiarity of the characters and setting. DreamWorks launched a major campaign to increase American Beauty's chances of Academy Award success; at the 2000 ceremony, the film won Best Picture, Best Director, Best Actor (for Spacey), Best Original Screenplay and Best Cinematography. The film was nominated for and won many other awards and honors, mainly for the direction, writing and acting.
---
'American Beauty' Stars
Allison Janney, Annette Bening, Chris Cooper, Kevin Spacey, Mena Suvari, Peter Gallagher, Sam Mendes, Thora Birch, Wes Bentley
---
'American Beauty' Movie Links

Official American Beauty Movie Website


American Beauty on IMDb