---
The Lovely Bones (2009)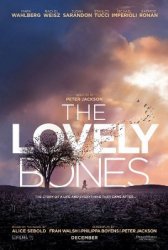 Starring: Susan Sarandon, Rachel Weisz, Mark Wahlberg, Stanley Tucci, Saoirse Ronan, Michael Imperioli, Jake Abel
Director: Peter Jackson
Release Date:

January 15th, 2010
Release Date:

29th January, 2010
Synopsis: In 1973, Susie Salmon is raped and murdered by a neighbour, George Harvey, a serial killer of young girls and women. She finds herself in 'the in-between' a Heavenlike place, observing her family as they grieve for her. She also watches her killer who, having covered his tracks successfully, is preparing to murder again. Susie struggles to balance her desire for vengeance on Harvey and her desire to have her family recover from their loss. Based on the best selling book by Alice Sebold, The Lovely Bones ells the story from Heaven, showing the lives of the people around her and how they have changed all while attempting to get someone to find her lost body. She must weigh her desire for vengeance against her desire for her family to heal.
Status:
The Lovely Bones Movie Trailer
About the Movie
The Lovely Bones is an upcoming film adaptation of the novel of the same name by Alice Sebold, set for release on December 11, 2009. The film was directed by Peter Jackson and stars actress Saoirse Ronan as Susie Salmon, with Rachel Weisz and Mark Wahlberg as her parents, Susan Sarandon as her grandmother and Stanley Tucci as George Harvey, her murderer.
Jackson and his producer partners acquired the rights independently and developed a script on their own, later selling it to DreamWorks. Production began in October 2007 in New Zealand and Pennsylvania. Paramount became a sole distributor a year later when they split with DreamWorks. The film's trailer was released on August 4th 2009.
---
'The Lovely Bones' Stars
Jake Abel, Mark Wahlberg, Michael Imperioli, Peter Jackson, Rachel Weisz, Saoirse Ronan, Stanley Tucci, Susan Sarandon
---
'The Lovely Bones' Movie Links

Official The Lovely Bones Movie Website


The Lovely Bones on IMDb