---
The Princess and the Frog (2009)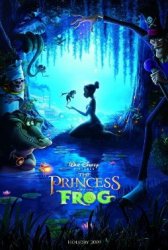 Starring: John Goodman, Terrence Howard, Keith David, Anika Noni Rose, Angela Bassett, Oprah Winfrey, Bruno Campos
Director: Ron Clements, John Musker
Release Date:

December 11th, 2009
Release Date:

5th February, 2010
Synopsis: When the free-spirited, jazz-loving Prince Naveen of Maldonia comes to town ,a deal with a shady voodoo doctor goes bad and the once suave royal is turned into a frog. In a desperate attempt to be human again, a favour in exchange for a fateful kiss on the lips from the beautiful girl, Tiana, takes an unexpected turn and leads them both on a hilarious adventure through the mystical bayous of Louisiana to the banks of the almighty Mississippi and back in time for Mardi Gras in New Orleans. An unforgettable tale filled with music, humour and heart where two frogs – along with the help of a 197-year-old voodoo priestess, a love-sick Cajun firefly, and a trumpet-playing alligator – discover that what they want isn't as important as what they need.
Status:
The Princess and the Frog Movie Trailer
About the Movie
The Princess and the Frog is an upcoming 2009 American animated family feature film produced by Walt Disney Animation Studios, which is loosely based on E.D. Baker's novel The Frog Princess and the grimm brothers The Frog Prince. It will be the 49th animated feature in the Walt Disney Animated Classics and the first theatrically released 2D animated movie by Disney since 2004′s Home on the Range. It is being directed by John Musker and Ron Clements, directors of The Great Mouse Detective, The Little Mermaid, Aladdin, Hercules, and Treasure Planet, with songs and score composed by Randy Newman and with the voices of Anika Noni Rose (as Princess Tiana), Oprah Winfrey, Keith David, Jim Cummings, John Goodman, Jenifer Lewis, Bruno Campos, Michael-Leon Wooley, Peter Bartlett and Terrence Howard.
The film, which began production under the working title The Frog Princess, will be an American fairy tale, Broadway-style musical set in the French Quarter of New Orleans. A prince named Naveen from the land of Maldonia is transformed into a frog by the evil scheming voodoo magician Dr. Facilier. The frog prince mistakes a girl named Tiana for a princess and has her kiss him to break the spell. However, the kiss doesn't break the spell, but instead turns Tiana into a frog as well. Together, the two of them must reach the good voodoo priestess of the Bayou, Mama Odie, while befriending a trumpet-playing alligator and a hopelessly romantic firefly along the way. The film will open in limited release in New York and Los Angeles on November 25, 2009 before expanding into wide release on December 11, 2009.
---
Movie Reviews
Movie Review from EmpireOnline.com

Much has been said about the historic milestones this represents — the return of hand-drawn animation; the first African-American Disney princess — and that's all worth remarking upon. But it doesn't really sum this film up, because this is a thoroughly old-fashioned fairy tale, the epitome of a Disney movie that distils the essence of Walt for a new generation weaned on the cynicism of Shrek. In fact, this is the anti-Shrek, a sincere fairy tale with a good heart, but one that is never naive or boring.
Certainly, all the familiar fairy-tale elements are here. So, welcome a beautiful heroine, a handsome prince, overweight comic relief, a magic-wielding ne'er-do-well and a fairy godmother, of a sort. In 1920s New Orleans, our hero is turned into a frog; the heroine, kissing him in order to turn him back, finds herself trapped in the curse, and the pair hop off to the swamp in search of an old voodoo witch to turn them back. Hedging their bets, legendary animation directors Ron Clements and John Musker have made a film bookended by princesses in pretty dresses but with a middle section filled with comedy talking animals, following the sharp Disney practice of leavening the gooiest love stories with plenty of non-human slapstick (see also: Cinderella, Beauty And The Beast).

Read the Full Movie Review at EmpireOnline.com
Movie Review from TotalFilm.com

"If you do your best each and every day/Good things are sure to come your way!" warbles the heroine of Disney's latest – a hard-working, independent young waitress determined to realise her dream of opening a restaurant.
Much has been written about the fact that Tiana (Anika Noni Rose) is an African-American, a notable first for the House of Mouse. What has been less well publicised is that she's also a sanctimonious, prissy buzzkill that you can't wait to see brought down a peg – if only to stop her wittering about all the great gumbo she'll be serving up in her swanky eaterie in New Orlean's French Quarter.

Read the Full Movie Review at TotalFilm.com
Movie Review from Guardian.co.uk

The geniuses at Pixar have revitalised the art of animation: how weird then to see Pixar's guiding spirit, John ­Lasseter as executive producer of this very old-style Disney animation, which could have been made during the Nixon ­administration. The only thing that alerts us to its modernity is its new racial awareness. For the first time, the Disney corporation has given us a princess who is black. Or … have they? Tiana, voiced by Anika Noni Rose, is an African-­American girl who once dreamed of kissing frogs to find her true prince.

Read the Full Movie Review at Guardian.co.uk
---
'The Princess and the Frog' Stars
Angela Bassett, Anika Noni Rose, Bruno Campos, John Goodman, John Musker, Keith David, Oprah Winfrey, Ron Clements, Terrence Howard
---
'The Princess and the Frog' Movie Links

Official The Princess and the Frog Movie Website


The Princess and the Frog on IMDb