---
The Skin I Live In (2011)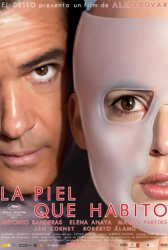 Starring: Antonio Banderas, Elena Anaya, Marisa Paredes, Blanca Suárez, Jan Cornet, Fernando Cayo
Director: Pedro Almodóvar
Release Date:

October 14th, 2011
Release Date:

26th August, 2011
Running Time: 117 Mins
Synopsis: A brilliant plastic surgeon, haunted by past tragedies, creates a type of synthetic skin that withstands any kind of damage. His guinea pig: a mysterious and volatile woman who holds the key to his obsession.
Status:
titlexxx - The Skin I Live In Movie Trailer
About the Movie
The Skin I Live In is a 2011 Spanish drama thriller film directed by Pedro Almodóvar, starring Antonio Banderas, Elena Anaya, Marisa Paredes, Jan Cornet and Roberto Álamo, and is loosely based on Thierry Jonquet's novel Tarantula. The film was the first collaboration in 21 years between Almodóvar and his former regular cast member Banderas. The film premiered in May 2011 in competition at the 64th Cannes Film Festival.
---
Movie Reviews
Movie Review from EmpireOnline.com

For a director whose work is so distinctive, Pedro Almodóvar likes to make movies which grow out of other films. Though based on a French novel, this brew of obsession, plastic surgery and Gothic back story is rooted in a clutch of key films from the late 1950s: Hitchcock's Vertigo (in which James Stewart tries to reshape Kim Novak into the image of herself), Michael Powell's Peeping Tom (in which a detached psychological experiment creates a serial killer) and, most of all, Georges Franju's Eyes Without A Face (in which a mad scientist steals the faces of kidnapped girls to graft onto his scarred daughter).

Read the Full Movie Review at EmpireOnline.com
Movie Review from TotalFilm.com

Spanish auteur Pedro Almodóvar's 18th feature – his first with one-time muse Antonio Banderas since 1990's Tie Me Up! Tie Me Down! – explores the director's oft-worked themes of sexual identity and desire while exhibiting his fondness for vivid colours, vibrant melodrama and zesty living spaces. Yet in adapting Thierry Jonquet's cold-to-burn novel Tarantula, Almodóvar has created his most outré outing to date: an arthouse rape-revenge/mad surgeon/ torture porn tale hinging on a fiendish reveal sure to reduce viewers to foetal balls.

Read the Full Movie Review at TotalFilm.com
Movie Review from Guardian.co.uk

Sexuality and the prison house of the self are the themes of Pedro Almodóvar's fantastically twisted new film, a luxury pulp fiction that breathes the atmosphere of the sick-room. Antonio Banderas stars as Ledgard, a wealthy and brilliant plastic surgeon who in his palatial home, tastefully furnished and equipped with its own private operating theatre, is secretly experimenting on the beautiful and submissive young Vera (Elena Anaya), whose entire skin covering he is replacing with an eerily smooth artificial substance, transgenically derived from pig hide.

Read the Full Movie Review at Guardian.co.uk
Movie Review from TimeOut.com

Pedro Almodóvar again reveals his genius for turning the ridiculous into the sublime with this creepy skin flick – a melodramatic thriller that is sombre but never sober and that moves through time and space with much of the boldness and style we've come to expect from Spain's leading director, even if it doesn't have the overall sense of unity and authorial command of the likes of 'Volver' or 'Talk to Her'. Almodóvar's ambition sometimes overtakes his writing, and at points his storytelling tends towards being more knotty than ever.

Read the Full Movie Review at TimeOut.com
Movie Review from Telegraph.co.uk

If there's one thing on which we can constantly rely from Pedro Almodóvar, it's sumptuous home furnishings. Other things would include narrative switchbacks, tragic mothers, surprise sex and wigs. The Skin I Live In, Almodóvar's clinically bizarre new thriller, doesn't disappoint on any of these counts, but it's also the first of his films that you could define as a horror movie, in a smirking sort of way. It's constructed to induce kinky shudders, delivering them with the ghoulish technical flair of a purring master.

Read the Full Movie Review at Telegraph.co.uk
---
'The Skin I Live In' Stars
Antonio Banderas, Blanca Suárez, Elena Anaya, Fernando Cayo, Jan Cornet, Marisa Paredes, Pedro Almodóvar
---
'The Skin I Live In' Movie Links

Official The Skin I Live In Movie Website


The Skin I Live In on IMDb


The Skin I Live In on Wikipedia