---
The Social Network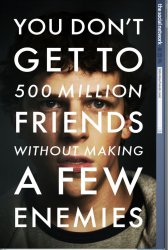 Starring: Rooney Mara, Andrew Garfield, Jesse Eisenberg, Rashida Jones, Brenda Song, Justin Timberlake
Director: David Fincher
Release Date:

October 1st, 2010
Release Date:

15th October, 2010
Synopsis: On a fall night in 2003, Harvard undergrad and computer programming genius Mark Zuckerberg sits down at his computer and heatedly begins working on a new idea. In a fury of blogging and programming, what begins in his dorm room soon becomes a global social network and a revolution in communication. A mere six years and 500 million friends later, Mark Zuckerberg is the youngest billionaire in history... but for this entrepreneur, success leads to both personal and legal complications.
Status:
The Social Network Movie Trailer
About the Movie
The Social Network is an upcoming 2010 drama film directed by David Fincher about the founding of the social networking website Facebook. The film features an ensemble cast, which consists of Jesse Eisenberg, Andrew Garfield, Justin Timberlake, Brenda Song, Rashida Jones, Max Minghella, Rooney Mara, Malese Jow, Shelby Young, and Joseph Mazzello.
The film was written by Aaron Sorkin and adapted from Ben Mezrich's 2009 nonfiction book The Accidental Billionaires. The film is distributed by Columbia Pictures and is set for an October 1, 2010 release. None of the Facebook staff, including founder Mark Zuckerberg, will be involved with the project. One of the co-founders, Eduardo Saverin, was a consultant for Mezrich's book.
---
Movie Reviews
Movie Review from EmpireOnline.com

Since making his debut with the disastrous Alien 3, David Fincher has struggled to find material worthy of his indisputable technical talent. This is nothing new; after Stanley Kubrick released Barry Lyndon in 1975 his assistant recalled hearing the nightly thud of books hitting the wall, until at last there was silence: Stanley had picked up Stephen King's The Shining, and the rest, of course, was history. Like Kubrick, Fincher has dabbled in a variety of genres too, but after the mixed reception afforded Benjamin Button, a respectable but strangely lightweight Oscar bid, The Social Network seems an unusual choice, even for him.

Read the Full Movie Review at EmpireOnline.com
Movie Review from TotalFilm.com

"Every creation myth needs a devil," notes one of Mark Zuckerberg's attorneys as the Facebook creator resigns himself to legal defeat. The Social Network is the story of one man's God complex igniting his demonisation. It's what happens when anarchy is assimilated – how rebellion gets contorted into money. Facebook began as a popularity contest and, beneath the six-year digital limescale of Pokes and Likes and earnest Comments and ranty Wall postings, it still is. Writer Aaron Sorkin skewers Zuckerberg (Jesse Eisenberg) as a talented hacker/prankster who took someone else's good idea and made it better.

Read the Full Movie Review at TotalFilm.com
Movie Review from Hollywood.com

You may have heard critics and advertisers tout The Social Network, David Fincher's finger-pointing film about how Facebook was harvested from the halls of Harvard and turned into a billion dollar business, as "the movie of the decade" or "a generation-defining film." This kind of praise has led the entertainment journalism collective to liken it to true staples of cinema like Citizen Kane and The Graduate. In terms of relevance to its audience, those are fair if overreaching statements. The film depicts its teenage characters with unflinching pragmatism as it weaves the nasty web of deception and betrayal that is the story of the social media juggernaut.

Read the Full Movie Review at Hollywood.com
Movie Review from Guardian.co.uk

From the first sentence, the first word, the first nervily in-drawn breath, this compulsively watchable picture announces itself as the unmistakable work of Aaron Sorkin. His whip-smart, mile-a-minute dialogue made The West Wing deeply addictive on TV, and after uncertain works such as Charlie Wilson's War and the strange, small-screen drama Studio 60 on the Sunset Strip – in which Sorkin's distinctive, faintly martyred seriousness was bafflingly applied to the backstage shenanigans of a fictional television comedy – this writer is triumphantly back on form. He's found an almost perfect subject: the creation of the networking website Facebook.

Read the Full Movie Review at Guardian.co.uk
Movie Review from TimeOut.com

Director David Fincher ('Fight Club', 'Zodiac') and writer Aaron Sorkin ('The West Wing', 'A Few Good Men') have made a mischievous, scaremongering tale about the origins of Facebook that combines the talky rigour of Sorkin's writing with the spooky crispness of Fincher's imagery. It launches us headfirst into an intense exchange between two students, Mark Zuckerberg (Jesse Eisenberg) and his girlfriend Erica (Rooney Mara), sitting in a Harvard bar, opposite each other, nursing beers. You can hardly call it a conversation. She speaks smartly and normally; he avoids eye- contact, talks through her, responds selectively and, when the chat doesn't go his way, needily asks: 'Is this real?'

Read the Full Movie Review at TimeOut.com
Movie Review from Movies.com

It's either a biopic or a loose interpretation of real events amped up to look like a biopic, but that's not really the point. It's really a somewhat familiar story about the ascent to power, just a different sort of power than the one that a place like Harvard could even see coming. Weirder, it was a situation that wrote new rules and felt democratic even if it was the work of guy who knew only how to get his own way, a social network invented by a misanthropic lone wolf. It's part Citizen Kane, part Goodfellas, part Revenge of the Nerds and the most entertaining film you never knew you would want to see.

Read the Full Movie Review at Movies.com
Movie Review from Telegraph.co.uk

The Social Network, the most anticipated film of 2010 after Inception, is about Facebook. You may have heard of Facebook. To sceptics, it's the website that's not Friendster, little more than Bebo for adults. Its enthusiasts, though (their tacit motto being 500 Million Active Users Can't Be Wrong), hail it as a wonderfully dynamic, user-generated, paradigm-shifting exemplar of Web 2.0. Either way, over the past few years, it's often been hard to pick up a newspaper or magazine without seeing yet another article about the company's rapid rise or about its youthful, nerdish founder Mark Zuckerberg (aka the Accidental Billionaire, also the name of Ben Mezrich's book, which inspired this film).

Read the Full Movie Review at Telegraph.co.uk
---
'The Social Network' Stars
Andrew Garfield, Brenda Song, David Fincher, Jesse Eisenberg, Justin Timberlake, Rashida Jones, Rooney Mara
---
'The Social Network' Movie Links

Official The Social Network Movie Website


The Social Network on IMDb