---
The Spirit (2008)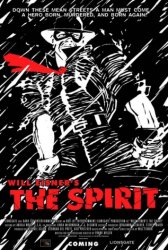 Starring: Gabriel Macht, Scarlett Johansson, Samuel L. Jackson, Eva Mendes, Jaime King
Director: Frank Miller
Release Date:

December 25th, 2008
Release Date:

1st January, 2009
Synopsis: Down these mean streets a man must come. A hero born, murdered, and born again. When a Rookie cop named Denny Colt returns from the beyond as The Spirit, a hero whose mission is to fight against the bad forces from the shadows of Central City. The Octopus who kills anyone unfortunate enough to see his face who has other plans. He's going to wipe out the entire city. The Spirit tracks this cold hearted killer from the city's rundown warehouses, to the damp catacombs, to the windswept waterfront all the while facing a bevy of beautiful women who either want to seduce, love or kill the masked crusader.
Status:
About the Movie
The Spirit is an American comic book adaptation, written and directed by Frank Miller and starring Gabriel Macht, Eva Mendes, Sarah Paulson, Dan Lauria, Paz Vega, Jaime King, Scarlett Johansson, and Samuel L. Jackson. The film is based on the newspaper comic strip The Spirit by Will Eisner. OddLot and Lionsgate produced the film.
The Spirit was released in the United States on December 25, 2008, and on DVD and Blu-ray on April 14, 2009. Despite being a commercial and critical failure in theatres, the film found more success on DVD and Blu-ray. The MPAA rated The Spirit PG-13 for intense sequences of stylized violence and action, some sexual content, and brief nudity.
---
'The Spirit' Stars
Eva Mendes, Frank Miller, Gabriel Macht, Jaime King, Samuel L. Jackson, Scarlett Johansson
---
'The Spirit' Movie Links

Official The Spirit Movie Website


The Spirit on IMDb