---
Sin City (2005)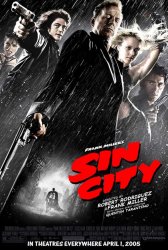 Starring: Jessica Alba, Benicio Del Toro, Brittany Murphy, Clive Owen, Mickey Rourke, Bruce Willis, Elijah Wood
Director: Frank Miller, Robert Rodriguez
Release Date:

April 1st, 2005
Release Date:

3rd June, 2005
Synopsis: In a town called Sin City it beckons to the tough, the corrupt, the brokenhearted, Some call it dark. Some call it hard-boiled. Then there are those who call it home. Crooked cops. Sexy Dames. Desperate vigilantes. Some are seeking revenge. Others lust after redemption. And then there are those hoping for a little of both. A universe of unlikely and reluctant heroes still trying to do the right thing in a city that refuses to care.
Status:
About the Movie
Sin City (full title: Frank Miller's Sin City) is a 2005 American crime thriller film written, produced, and directed by Frank Miller and Robert Rodriguez. It is a film noir based on Miller's graphic novel series of the same name.
The film is primarily based on three of Miller's works: The Hard Goodbye, about a man who embarks on a brutal rampage in search of his one-time sweetheart's killer; The Big Fat Kill, which focuses on a street war between a group of prostitutes and a group of mercenaries; and That Yellow Bastard, which follows an aging police officer who protects a young woman from a grotesquely disfigured serial killer. The movie stars Bruce Willis, Alexis Bledel, Mickey Rourke, Jessica Alba, Clive Owen, Michael Clarke Duncan, Rosario Dawson, Benicio del Toro, Michael Madsen, Nick Stahl, Powers Boothe, Josh Hartnett, Jaime King, Brittany Murphy, Elijah Wood and Rutger Hauer, among others.
Sin City opened to wide critical and commercial success, gathering particular recognition for the film's unique coloring procession, which rendered most of the film in black and white but retained or added coloring for select objects. The film was screened at the 2005 Cannes Film Festival in-competition and won the Technical Grand Prize for the film's "visual shaping".
---
'Sin City' Stars
Benicio Del Toro, Brittany Murphy, Bruce Willis, Clive Owen, Elijah Wood, Frank Miller, Jessica Alba, Mickey Rourke, Robert Rodriguez
---
'Sin City' Movie Links

Official Sin City Movie Website


Sin City on IMDb