---
The Stoning of Soraya M. (2008)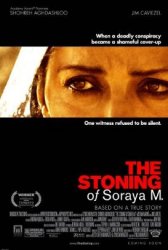 Starring: Shohreh Aghdashloo, Mozhan Marnò, James Caviezel, Navid Negahban, Ali Pourtash, David Diaan, Parviz Sayyad
Director: Cyrus Nowrasteh
Release Date:

June 26th, 2009
Release Date:

22nd October, 2010
Synopsis: A drama set in 1986 Iran and centered on a man, Sahebjam, whose car breaks down in a remote village and enters into a conversation with Zahra, who relays to him the story about her niece, Soraya, whose arranged marriage to an abusive tyrant had a tragic ending.
Status:
The Stoning of Soraya M. Movie Trailer
About the Movie
The Stoning of Soraya M. is a 2009 drama film adapted from French-Iranian journalist Freidoune Sahebjam's 1994 novel of the same name. The movie is directed by Cyrus Nowrasteh and stars Academy Award nominee Shohreh Aghdashloo, as well as James Caviezel and Mozhan Marnò. Stoning had its North American premiere at the Toronto International Film Festival and was the second runner-up for the Cadillac People's Choice Award.
---
Movie Reviews
Movie Review from TotalFilm.com

Based on real-life events that occurred in an Iranian village in the '80s, this recounts the appalling story of a woman (Shohreh Aghdashloo) whose niece Soraya (Mozhan Marnò) is falsely accused of adultery by her divorceseeking husband. Under Sharia Law the punishment for this offence, decided at an all-male tribunal, is death by public stoning. American-Iranian writer/ director Cyrus Nowrasteh's approach is hardly subtle, favouring didactic dialogue and overblown scoring. That said, a 20-minute stoning sequence possesses the shocking brutality of The Passion Of The Christ.

Read the Full Movie Review at TotalFilm.com
---
'The Stoning of Soraya M.' Stars
Ali Pourtash, Cyrus Nowrasteh, David Diaan, James Caviezel, Mozhan Marnò, Navid Negahban, Parviz Sayyad, Shohreh Aghdashloo
---
'The Stoning of Soraya M.' Movie Links

Official The Stoning of Soraya M. Movie Website


The Stoning of Soraya M. on IMDb