---
The Usual Suspects (1995)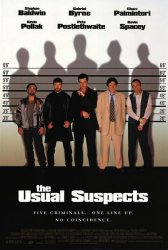 Starring: Stephen Baldwin, Gabriel Byrne, Benicio Del Toro, Kevin Pollak, Kevin Spacey, Chazz Palminteri, Pete Postlethwaite, Dan Hedaya
Director: Bryan Singer
Release Date:

August 16th, 1995
Release Date:

25th August, 1995
Synopsis: Following a truck hijack in New York, five conmen are arrested and brought together for questioning. As none of them is guilty, they plan a revenge operation against the police. The operation goes well, but then the influence of a legendary mastermind criminal called Keyser Söze is felt. It becomes clear that each one of them has wronged Söze at some point and must pay back now. The payback job leaves 27 men dead in a boat explosion, but the real question arises now: Who actually is Keyser Söze?
Status:
The Usual Suspects Movie Trailer
About the Movie
The Usual Suspects is a 1995 American neo-noir film written by Christopher McQuarrie and directed by Bryan Singer. The film tells the story of Roger "Verbal" Kint (Kevin Spacey), a small-time con man who is the subject of a police interrogation. He tells his interrogator, U.S. Customs Agent David Kujan (Chazz Palminteri), a convoluted story about events leading to a massacre and massive fire that have just taken place on a ship docked at the Port of Los Angeles in San Pedro Bay. Using flashback and narration, Kint's story becomes increasingly complex as he tries to explain why he and his partners-in-crime were on the boat.
The film, shot on a $6 million budget, originally began as a title taken from a column in Spy magazine called "The Usual Suspects," after one of Claude Rains's most memorable lines in Casablanca. Singer thought that it would be a good title for a film, the poster for which he and McQuarrie had developed as the first visual idea.
The Usual Suspects was shown out of competition at the 1995 Cannes Film Festival, and then initially released in few theaters. It received favorable reviews, and was eventually given a wider release. McQuarrie won an Academy Award for the screenplay and Spacey won the Best Supporting Actor award for his performance.
---
'The Usual Suspects' Stars
Benicio Del Toro, Bryan Singer, Chazz Palminteri, Dan Hedaya, Gabriel Byrne, Kevin Pollak, Kevin Spacey, Pete Postlethwaite, Stephen Baldwin
---
'The Usual Suspects' Movie Links

The Usual Suspects on IMDb