---
Che (2008)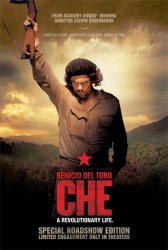 Starring: Benicio Del Toro, Benjamin Bratt, Franka Potente, Lou Diamond Phillips, Kahlil Mendez, Julia Ormond, Édgar Ramírez
Director: Steven Soderbergh
Release Date:

December 12th, 2008
Release Date:

2nd January, 2009
Synopsis: After helping overthrow the dictatorship of Fulgencio Batista in Cuba, Guevara moved on to foment revolutions in Africa and South America, eventually being captured and killed by counter-insurgency rangers in the mountains of Bolivia, backed by the CIA.
Status:
About the Movie
Che is a two-part 2008 biopic about Ernesto 'Che' Guevara directed by Steven Soderbergh and starring Benicio del Toro. Rather than follow a standard chronological order, the films offer an oblique series of interspersed moments along the overall timeline. Part One is entitled The Argentine and focuses on the Cuban revolution from the landing of Fidel Castro, Guevara, and other revolutionaries on Cuba to their successful toppling of the dictatorship of Fulgencio Batista two years later. Part Two is entitled Guerrilla and focuses on Guevara's attempt to bring revolution to Bolivia and his demise. Both parts are shot in a cinéma vérité style, but each has different approaches to linear narrative, camerawork, and the visual look.
Filmmaker Terrence Malick originally worked on a screenplay limited to Guevara's attempts to start a revolution in Bolivia. When financing fell through, Malick left the project, and subsequently Soderbergh agreed to direct the film. He realized that there was no context for Guevara's actions in Bolivia and decided that his participation in the Cuban revolution and his appearance at the United Nations in 1964 should also be depicted. Peter Buchman was hired to write the screenplay: the script was so long that Soderbergh decided to divide the film into two parts, one chronicling Cuba and other depicting Bolivia. Soderbergh shot the films back-to-back starting at the beginning of July 2007, with Guerrilla first in Spain for 39 days, and The Argentine shot in Puerto Rico and Mexico for 39 days.
Che was screened as a single film at the 2008 Cannes Film Festival. Del Toro won the Best Actor Award, and the film received mostly positive reviews. IFC Films, which holds all North American rights to Che, initially released the combined film for one week on December 12, 2008 in New York City and Los Angeles to qualify for the year's Academy Awards. Strong box office performance led to the "special roadshow edition" being extended in New York and Los Angeles and later expanded into additional markets. The film was released as two separate films, titled Che Part 1: The Argentine and Che Part 2: Guerrilla, and distribution expanded further after that. The Independent Film Channel released the films via video on demand and on Region 1 DVD exclusively from Blockbuster. As of October 2009, Che parts I and II had grossed US$ 40,779,241 worldwide.
---
'Che' Stars
Benicio Del Toro, Benjamin Bratt, Franka Potente, Julia Ormond, Kahlil Mendez, Lou Diamond Phillips, Steven Soderbergh, Édgar Ramírez
---
'Che' Movie Links

Che on IMDb