---
The Wolfman (2010)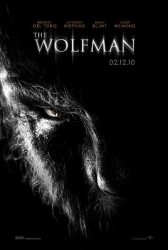 Starring: Emily Blunt, Benicio Del Toro, Anthony Hopkins, Hugo Weaving, Geraldine Chaplin, Elizabeth Croft, Art Malik
Director: Joe Johnston
Release Date:

February 12th, 2010
Release Date:

12th February, 2010
Synopsis: Lawrence Talbot, a haunted nobleman, is lured back to his family estate after his brother vanishes. Reunited with his estranged father, Talbot sets out to find his brother… and discovers a horrifying destiny for himself. Talbot's childhood ended the night his mother died. After he left the sleepy Victorian hamlet of Blackmoor, he spent decades recovering and trying to forget. But when his brother's fiancée, Gwen Conliffe, tracks him down to help find her missing love, Talbot returns home to join the search. He learns that something with brute strength and insatiable bloodlust has been killing the villagers, and that a suspicious Scotland Yard inspector named Aberline has come to investigate.
Status:
The Wolfman Movie Trailer
About the Movie
The Wolfman is an upcoming 2010 remake of the 1941 classic horror film of the same name. The remake is directed by Joe Johnston and stars Benicio del Toro, Anthony Hopkins, Emily Blunt, Hugo Weaving and Art Malik. Although originally scheduled for a November 6, 2009 release, it has been pushed back several times and is slated to be released on February 12, 2010.
---
'The Wolfman' Stars
Anthony Hopkins, Art Malik, Benicio Del Toro, Elizabeth Croft, Emily Blunt, Geraldine Chaplin, Hugo Weaving, Joe Johnston
---
'The Wolfman' Movie Links

Official The Wolfman Movie Website


The Wolfman on IMDb