---
The Adjustment Bureau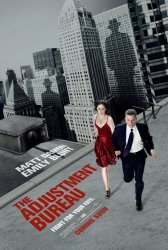 Starring: Matt Damon, Emily Blunt, Terence Stamp, John Slattery, Anthony Mackie, Michael Kelly
Director: George Nolfi
Release Date:

March 4th, 2011
Release Date:

4th March, 2011
Running Time: 106 Mins
Synopsis: Do we control our destiny, or do unseen forces manipulate us? A man who glimpses the future Fate has planned for him and realizes he wants something else. To get it, he must pursue the only woman he's ever loved across, under and through the streets of modern-day New York.
Status:
titlexxx - The Adjustment Bureau Movie Trailer
About the Movie
The Adjustment Bureau is an upcoming thriller-sci-fi-action-romance film, loosely based on the Philip K. Dick short story, "Adjustment Team". The film was written and directed by George Nolfi and stars Matt Damon and Emily Blunt. The cast also includes Anthony Mackie, Shohreh Aghdashloo, Daniel Dae Kim, Michael Kelly, John Slattery, Terence Stamp, and Anthony Ruivivar.
---
Movie Reviews
Movie Review from EmpireOnline.com

Once again, a film based on a Philip K. Dick idea bears at most a passing resemblance to its inspiration — but this time it's because, instead of piling illogic on high concept, Hollywood has transformed his short story into a swoonsome romance. Strangely, that seems to be a better fit. Maybe Dick had a softer centre than we ever knew. The themes of screenwriter George Nolfi's first feature film as director will delight philosophers. Does free will exist, or are we travelling along pre-determined paths — and if so, who determines them, and to what extent?

Read the Full Movie Review at EmpireOnline.com
Movie Review from TotalFilm.com

Love has taken a battering lately. Blue Valentine, Rabbit Hole and The Kids Are All Right have all shown it busting up, breaking down and dying hard. Love's had it tough. Love's had Twilight, for pity's sake. But things weren't always like this. One of the greatest romantic fantasies in cinema history, Michael Powell and Emeric Pressburger's A Matter Of Life And Death (1946), was illuminated by an idea so simple and so beautiful that it makes your heart beat harder just to say it: that a single tear shed for love might stop heaven in its tracks.

Read the Full Movie Review at TotalFilm.com
Movie Review from Hollywood.com

The age-old debate over fate vs. free will has been and always will be a tough theme to crack in any medium, but with the benefits of modern filmmaking technology the theory can be explored in ways that Philip K. Dick never imagined. However, when one relies too heavily on spectacle to tell a story, a piece of cerebral science fiction can quickly become just another action extravaganza. In this day and age there's a fine line between the two; The Matrix walked that tightrope with style and grace while Next never found its footing in the first place.

Read the Full Movie Review at Hollywood.com
Movie Review from Guardian.co.uk

A short story by Philip K Dick, first published in 1954, has been freely adapted by Bourne screenwriter George Nolfi, who has turned it into a glitzy futurist conspiracy thriller, starring Matt Damon and Emily Blunt. It's played entirely straight, but overlaid with a correctly judged note of jaunty absurdity, as if a new version of The Manchurian Candidate had been written by Charlie Kaufman. This is an essentially light-hearted picture, and – with a pinch of salt – slips down pretty nicely as a dark, speculative comedy on the themes of love, free will and fate.

Read the Full Movie Review at Guardian.co.uk
Movie Review from TimeOut.com

One suspects that this sleek and diverting directorial debut from George Nolfi will find it tough to escape from the immense shadow of Christopher Nolan's similarly themed 'Inception'. Which is a shame, as it shares just as much common interest with such conspiracy-inspired sci-fi as 'The Dead Zone', 'They Live!' and 'The Manchurian Candidate'. And as a film that fuels the belief that the political agenda is set by a cadre of shady, back-room types, it has genuine substance.

Read the Full Movie Review at TimeOut.com
Movie Review from Movies.com

This movie is easily the most imaginative and fun to watch love story I have seen in ages. All the elements of a compelling film are here--mystery, action, tension, lofty concepts, and kissing. Matt Damon's performance is effortless and elegant, just like Emily Blunt's dancing. Together they form this electric partnership that made me a conspirator in their quest to be together against all odds. Director/screenwriter George Nolfi creates one of the most watchable adaptations of the author's work.

Read the Full Movie Review at Movies.com
---
'The Adjustment Bureau' Stars
Anthony Mackie, Emily Blunt, George Nolfi, John Slattery, Matt Damon, Michael Kelly, Terence Stamp
---
'The Adjustment Bureau' Movie Links

Official The Adjustment Bureau Movie Website


The Adjustment Bureau on IMDb


The Adjustment Bureau on Wikipedia