---
The Women (2008)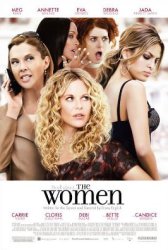 Starring: Meg Ryan, Annette Bening, Eva Mendes, Debra Messing, Jada Pinkett Smith, Carrie Fisher, Cloris Leachman, Debi Mazar, Bette Midler, Candice Bergen
Director: Diane English
Release Date:

September 12th, 2008
Release Date:

12th September, 2008
Synopsis: The story centers on a group of gossipy, high-society women who spend their days at the beauty salon and haunting fashion shows. The sweet, happily-wedded Mary Haines finds her marriage in trouble when shop girl Crystal Allen gets her hooks into Mary's man. Naturally, this situation becomes the hot talk amongst Mary's catty friends, especially the scandalmonger Sylvia Fowler, who has little room to talk – she finds herself on a train to Reno and headed for divorce right after Mary.
Status:
About the Movie
The Women is a 2008 American comedy film written, produced and directed by Diane English. The screenplay is an updated version of the George Cukor-directed 1939 film of the same name based on a 1936 play by Clare Boothe Luce.
In the original film, most of the characters were Manhattan socialites whose primary interest was idle gossip. In the 2008 version, several work in the fields of fashion design and publishing, and the character of Alex Fisher is openly a lesbian.
---
'The Women' Stars
Annette Bening, Bette Midler, Candice Bergen, Carrie Fisher, Cloris Leachman, Debi Mazar, Debra Messing, Diane English, Eva Mendes, Jada Pinkett Smith, Meg Ryan
---
'The Women' Movie Links

Official The Women Movie Website


The Women on IMDb