---
There Will Be Blood (2007)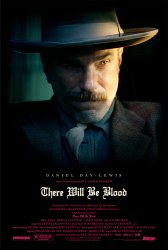 Starring: Daniel Day-Lewis, Paul Dano, Kevin J. O'Connor, Ciarán Hinds, Dillon Freasier
Director: Paul Thomas Anderson
Release Date:

January 11th, 2008
Release Date:

15th February, 2008
Synopsis: In the 1890s, Daniel Plainview, a struggling silver miner, finds his true wealth in petroleum extraction while taking the orphaned child, H.W., as his own for a valuable family man image. In 1911, Plainview gets a tip on a valuable supply on the struggling Sunday family ranch in the impoverished Little Boston, California. In his quest to acquire the property, Plainview meets the sanctimonious Eli Sunday, the young reverend of the local church with his own ambitions for his diocese and the profit from the oil. As the oil wells begin, an escalating conflict arises between exploiters of many kinds while Plainview's canny ruthlessness gradually sinks into a slowly mounting malevolent madness. In doing so, it begins to drive every emotional bond away that all the wealth he gains can never replace.
Status:
There Will Be Blood Movie Trailer
About the Movie
There Will Be Blood is a 2007 American drama film directed, written and co-produced by Paul Thomas Anderson. The film is loosely based on the Upton Sinclair novel Oil! (1927). It tells the story of a silver-miner-turned-oil-man on a ruthless quest for wealth during Southern California's oil boom of the late 19th and early 20th centuries. It stars Daniel Day-Lewis and Paul Dano.
The film received significant critical praise and numerous award nominations and victories. It appeared on many critics' "top ten" lists for the year, notably the American Film Institute, the National Society of Film Critics, the National Board of Review, and the Los Angeles Film Critics Association. Day-Lewis won Oscar, BAFTA, Golden Globe, Screen Actors Guild, NYFCC, and IFTA Best Actor awards for his performance. The film was nominated for eight Academy Awards including Best Picture, winning Best Actor for Day-Lewis and Best Cinematography for Robert Elswit.
In late 2009, it was chosen by Lisa Schwarzbaum of Entertainment Weekly, Peter Travers of Rolling Stone, and Michael Phillips of the Chicago Tribune and At the Movies as the best film of the '00s. The result of such decade-ending picks, as well as other decade-ending picks naming it one of the best films of the decade, make it the film with arguably more claim than any other to being the single most critically acclaimed film of the decade.
---
'There Will Be Blood' Stars
Ciarán Hinds, Daniel Day-Lewis, Dillon Freasier, Kevin J. O'Connor, Paul Dano, Paul Thomas Anderson
---
'There Will Be Blood' Movie Links

There Will Be Blood on IMDb