---
TRON: Legacy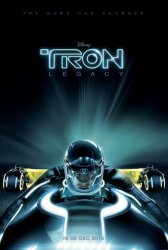 Starring: Jeff Bridges, Michael Sheen, Olivia Wilde, John Hurt, Garrett Hedlund, Serinda Swan, Bruce Boxleitner
Director: Joseph Kosinski
Release Date:

December 17th, 2010
Release Date:

17th December, 2010
Synopsis: Sam Flynn, the tech-savvy 27-year-old son of Kevin Flynn, looks into his father's disappearance and finds himself pulled into the same world of fierce programs and gladiatorial games where his father has been living for 25 years. Along with Kevin's loyal confidant, father and son embark on a life-and-death journey across a visually-stunning cyber universe that has become far more advanced and exceedingly dangerous.
Status:
TRON: Legacy Movie Trailer
TRON: Legacy Teaser Trailer
About the Movie
Tron Legacy is a forthcoming 2010 science fiction film. It is a sequel to the 1982 film Tron.
Joseph Kosinski made his feature film directorial debut with Tron Legacy, while the previous film director, Steven Lisberger, returned as a producer. Jeff Bridges reprises his role as Kevin Flynn, and Bruce Boxleitner his roles as Alan Bradley and Tron, while Garrett Hedlund portrays Flynn's now-adult son, Sam. The other cast members include Olivia Wilde, Beau Garrett and John Hurt.
According to the teaser trailer shown at the 2008 and 2009 San Diego Comic-Con, the film will be presented in Disney Digital 3-D and IMAX 3D. On September 3, 2009, Walt Disney Pictures announced that Tron Legacy will appear in theaters on December 17, 2010.
---
Movie Reviews
Movie Review from EmpireOnline.com

One wonders what Tron Guy, that portly fanman with bushy moustache and homemade XL bodysuit, will make of Tron Legacy. Until now he has been a walking representation of all things Tron-world: clunky, silly, the toast of nerds, the opposite of glamour. But now, with the arrival of the mega-budget sequel, the game grid has changed. This is a movie of astonishing high-end gloss, fused to a pounding Daft Punk soundtrack, populated with sleek sirens and chiselled hunks, boasting electroluminescent landscapes to make Blu-ray players weep. Tron is suddenly, undeniably cool. But where does that leave the guy with the DIY light disc?

Read the Full Movie Review at EmpireOnline.com
Movie Review from TotalFilm.com

Just a few seconds in, you can feel it. This isn't going to one of those movies that gives 3D a bad name. The camera swoops down out of the night sky, rushes through city streets and glides up to the front door of Kevin Flynn's house, where we see the hacker-turned-cyberman (Jeff Bridges) telling bedtime stories to his seven-year-old son Sam. It's the night Flynn will suddenly disappear forever. For the first time since Avatar, Tron Legacy uses the technology to make us experience something new and special again. For now, debut director Joe Kosinksi wisely soft-pedals the stereoscopic dazzle. He barely needs it. Even in the real world, Tron Legacy is just gorgeous to gawp at.

Read the Full Movie Review at TotalFilm.com
Movie Review from Hollywood.com

The problems with TRON: Legacy can be traced back to its origins. According to lore, Disney execs spent years kicking around various ideas for revisiting or remaking TRON, Steven Lisberger's groundbreaking 1982 sci-fi flick which, among other achievements, originated the concept of CGI, but nothing stuck and the project stagnated until producer Sean Bailey happened upon an effects test reel created on spec by Joseph Kosinski, a commercial director by trade and architect by training. Disney, wowed by the reel and encouraged by its enthusiastic reception at Comic-Con, agreed to move forward on a big-budget sequel with Kosinski at the helm.

Read the Full Movie Review at Hollywood.com
Movie Review from Guardian.co.uk

The addition of that stately "legacy" to the title strains to confer a retrospective classic status on Disney's virtual reality sci-fi thriller from 1982, about people trapped in a computer game and forced to engage in gladiatorial combat. It might have come as a surprise to some that Tron had much of a legacy; the film was overshadowed by Spielberg's ET in that year, and in the UK suffered the mortification of being upstaged by Peter Greenaway's The Draughtsman's Contract. Yet a generation grew up prizing Tron for being audacious, ahead of its time, a futurist trailblazer about games culture and the digital world. Its most famous legatee is Christopher Nolan, creator of Inception, and maybe that's the movie that original Tron fans would still prefer to watch.

Read the Full Movie Review at Guardian.co.uk
Movie Review from TimeOut.com

For over a decade, Disney's 'Tron' was the red-headed stepchild of '80s genre movies, seen as a blatant attempt to cash in on the arcade craze, a film bursting with style but lacking in substance. But as times changed, 'Tron' was re-evaluated: arcade culture was now fashionably retro, and as our world became increasingly digitised, the film's ideas of virtual reality and complex computerised systems became oddly prescient. It also didn't hurt that this coincided with Jeff Bridges's rise from dependable leading man to countercultural icon.

Read the Full Movie Review at TimeOut.com
Movie Review from Movies.com

All the money is on the screen. They took their 200 million bucks or however much this cost and they made a dark ride that's more thrilling and coldly beautiful to look at than anything else you've seen at the movies this year outside of Enter the Void. Can't follow the plot because of all the made-up jargon? No worries, just think good people vs. bad people (you'll follow who that is unless you're asleep) and prepare to have your senses pounded by a wickedly loud, bass-heavy laser show. Best of all it's not cheeky; it doesn't wink at you. It takes itself as seriously as the original, as seriously as you want it to, giving new audiences a way in and old-school Tron-heads plenty of insider love.

Read the Full Movie Review at Movies.com
Movie Review from Telegraph.co.uk

Nineteen eighty-two was a good year for science-fiction movies. There was ET. There was Blade Runner. And, according to Disney, which nearly three decades later has commissioned the first of what is likely to be a number of sequels, there was also Tron. Tron? That underwritten and cheesily performed film in which Jeff Bridges played a video-game programmer who gets sucked into one of his games? Tron was zeitgeist-chasing cheese, an attempt by Hollywood to cash in on the popularity of video arcades. It did only so-so at the box office, and, even though its computer-generated effects seemed startling at the time of its release, they quickly came to be seen as primitive.

Read the Full Movie Review at Telegraph.co.uk
---
'TRON: Legacy' Stars
Bruce Boxleitner, Garrett Hedlund, Jeff Bridges, John Hurt, Joseph Kosinski, Michael Sheen, Olivia Wilde, Serinda Swan
---
'TRON: Legacy' Movie Links

Official TRON: Legacy Movie Website


TRON: Legacy on IMDb