---
How to Lose Friends & Alienate People (2008)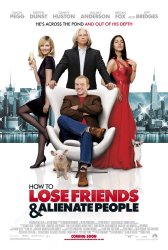 Starring: Simon Pegg, Megan Fox, Kirsten Dunst, Danny Huston, Gillian Anderson, Jeff Bridges
Director: Robert B. Weide
Release Date:

October 3rd, 2008
Release Date:

3rd October, 2008
Synopsis: Sidney Young is a disillusioned intellectual who both adores and despises the world of celebrity, fame and glamour. His alternative magazine, Post Modern Review, pokes fun at the media obsessed stars and bucks trends, and so when Young is offered a job at the diametrically opposed conservative New York based Sharps magazine its something of a shock! It seems Sharps editor Clayton Harding is amused by Young's disruption of a post-BAFTA party with a pig posing as Babe. Thus begins Sidney's descent into success, his gradual move from derided outsider to confidante of starlet Sophie Maes, and a love affair with colleague Alison Olsen, that will either make him or break him.
Status:
How to Lose Friends & Alienate People Movie Trailer
About the Movie
How to Lose Friends & Alienate People is a 2008 comedy film based upon British writer Toby Young's 2001 memoir of the same name. The film follows a similar storyline, about his five year struggle to make it in the United States after employment at Sharps Magazine. The names of the magazine and people Young came into contact with during the time were changed for the film adaptation. The film version (adapted by Peter Straughan) is a highly fictionalized account, and differs greatly from the work it was built upon. It was distributed in the United States by Metro-Goldwyn-Mayer, and in the United Kingdom by Paramount Pictures and Channel Four Films (the former also distributed in Australia).
The film was directed by Robert B. Weide and stars Simon Pegg as Sidney Young, Kirsten Dunst as Alison Olsen, Jeff Bridges as Clayton Harding, Danny Huston as Lawrence Maddox, Gillian Anderson as Eleanor Johnson, and Megan Fox as Sophie Maes. The cast also includes Max Minghella and Margo Stilley. How to Lose Friends And Alienate People was released in both the United States and United Kingdom on October 3, 2008.
---
Movie Reviews
Movie Review by Marty Meltz
Quality – 4 out of 10
This is a comedy without a personality.
The substance is there, the plot is there. But the will to entertain is not. Basically, the movie has little emotional direction. For involvement, you feel an ongoing void. This dilemma is due in no small part to the almost total lack of energy of the protagonist. His is a faceless face. It's a face that seems like it's crying out for a make-up artist to get going on.
Then once the film gets past its pranks and into seriousness, it becomes yawn worthy.
Film stories about self-aware buffoons who, intentionally or not, trash the affectations, pomp and pretense of elite society and corporate settings are old stuff. But delivery is everything, and this doesn't have it.
Consider: We have Sidney Young (Simon Pegg), a smalltime, ineffectual British celebrity journalist who has within him a mischievous sense of outrage. At a black-tie event, he releases a pig to run crazily through the high society elite, a brazen deed which interests Clayton Harding (Jeff Bridges), editor of Sharp Magazine of New York. At the behest of his wife, who had been intrigued by Sidney's brashness, he hires Sidney for a steady job. This vaults him into high society. Harding, however, has warned Sidney that his success will depend on charming everyone he meets.
The irrepressible loose cannon — he will start an interviews with "Are you gay or Jewish" — begins insulting and irritating fellow writer Alison Olsen (Kirsten Dunst). Then he takes aim at the celebrity clients of power publicist Eleanor Johnson (Gillian Anderson). He is a clown partly by accident, part by design. And now he bears down upon his direct boss Lawrence Maddox (Danny Huston) but tries to apologize by hiring a stripper to dance for Lawrence during a staff meeting.
With indomitable persistence Sidney barges on, somehow devising ways to enrage everybody. He does attract, curiously, rising, sexy starlet Sophie (Megan Fox). She may be the only force to divert his course from career self-destruction.
Simon Pegg is a busy Brit comedy actor. I remember him well in last year's "Hot Fuzz." But unless, as in that film, he fits perfectly, he can be a terrible miscalculation. He is not, by his very persona, a natural at generating dynamism within the frame. At times he's a black hole, sucking energy back in. You look desperately to whoever else is in the frame to pick up some momentum. Yet, with that other individual knowing that "Sidney" is there, he or she seems to be waiting futilely for something to happen. In a word, he is not, in the requirements of the script, enough of a walking disaster to make things happen at the laughs end. Kirsten Dunst struggles to make something happen.
The plot itself is not a winner. Give it an occasional laugh; all else will be quickly forgotten. Dialogue wittiness? Zero.

Read More Movie Reviews at Marty at the Movies
---
'How to Lose Friends & Alienate People' Stars
Danny Huston, Gillian Anderson, Jeff Bridges, Kirsten Dunst, Megan Fox, Robert B. Weide, Simon Pegg
---
'How to Lose Friends & Alienate People' Movie Links

How to Lose Friends & Alienate People on IMDb