---
Burke and Hare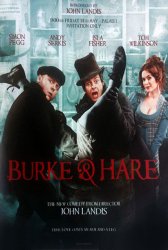 Starring: Simon Pegg, Tim Curry, Isla Fisher, Christopher Lee, Andy Serkis, Hugh Bonneville, Tom Wilkinson
Director: John Landis
Release Date:

29th October, 2010
Synopsis: Based on the true story about the famous murderers, 'Burke And Hare' follows the hapless exploits of these two men as they fall into the highly profitable business of providing cadavers for the medical fraternity in Nineteenth Century Edinburgh, then the centre of medical learning. The one thing they were short of was bodies.
Status:
Burke and Hare Movie Trailer
About the Movie
Burke and Hare is an upcoming British-Japanese-American 2010 black comedy film, based on the Burke and Hare murders. Directed by John Landis, the film will star Simon Pegg and Andy Serkis as William Burke and William Hare respectively. It will be Landis's first feature film release in twelve years, the last being 1998′s Susan's Plan.
---
Movie Reviews
Movie Review from EmpireOnline.com

The last stab at this story was the po-faced historical melodrama The Doctor and the Devils and a long, disreputable tradition of body-snatching horrors draws on folk-tales about the infamous Burke and Hare – who were actually too lazy to be proper resurrection men (which involved digging up corpses) and found murder an easier path to profit. So, the seemingly strange teaming of director John Landis and a revivified Ealing Studios take a different tack and mix historical research with good-natured (if gruesome) knockabout.

Read the Full Movie Review at EmpireOnline.com
Movie Review from TotalFilm.com

A man falling in a hole. Jessica Hynes face down in a bowl of porridge. Simon Pegg and Andy Serkis being showered with shit. Believe it or not, these are the comedic highlights in John Landis's woeful return to the big screen after a decade-long hiatus, an inept black farce about two 19th century bodysnatchers that couldn't be more lifeless if it was one of their victims. Already the subject of numerous films (from 1945's The Body Snatcher to 1985's The Doctor And The Devils), Burke and Hare were an Irish pair of scumbags who killed people in order to sell their corpses to Edinburgh's medical fraternity.

Read the Full Movie Review at TotalFilm.com
Movie Review from Guardian.co.uk

It's impossible entirely to dislike a movie which has Ronnie Corbett in it, but John Landis's new film – a broad comedy about 19th-century Edinburgh's grave-robbing murderers Burke and Hare – just isn't as funny as it needs to be, properly using neither the comic flair of Simon Pegg, nor the dramatic power of Andy Serkis. Landis's legendary British-set film An American Werewolf in London from 1981 was justly renowned for being genuinely scary with genuine laughs.

Read the Full Movie Review at Guardian.co.uk
Movie Review from TimeOut.com

If comedy is tragedy plus time, it stands to reason that the more time passes, the more tragic the event we can be persuaded to laugh at. The murder of sixteen people – and the sale of their bodies for medical research – doesn't exactly scream 'comedy gold', but set it in the nineteenth century, make it more a tale of poverty, pratfalls and political intrigue than actual hands-on killing, and hire 'American Werewolf' maestro John Landis to direct, and bingo.

Read the Full Movie Review at TimeOut.com
Movie Review from Telegraph.co.uk

It's impossible not to wish that Burke & Hare were better, and there are oh so very many ways in which it might have been. It's a ghoulish historical comedy about the notorious Edinburgh body-snatchers. Wait, did I say comedy? Watching it, I was stricken with doubt. There's precisely one proper laugh. Paul Whitehouse has a one-scene cameo as a tottering waster who gets violently shoved down some stone steps, appears to snap every bone in his body, and then gets up burbling apologies and staggers off. Sorry to spoil that.

Read the Full Movie Review at Telegraph.co.uk
---
'Burke and Hare' Stars
Andy Serkis, Christopher Lee, Hugh Bonneville, Isla Fisher, John Landis, Simon Pegg, Tim Curry, Tom Wilkinson
---
'Burke and Hare' Movie Links

Burke and Hare on IMDb