---
Jackboots on Whitehall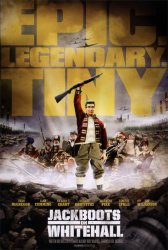 Starring: Ewan McGregor, Rosamund Pike, Richard E. Grant, Timothy Spall, Tom Wilkinson, Alan Cumming, Dominic West
Director: Edward McHenry, Rory McHenry
Release Date:

8th October, 2010
Synopsis: A satirical version of World War II in which the Scottish defeat the German invasion of England. Chris dreams of the chance to join the army and fight in exciting new lands rather than be stuck in the slow paced village life he has grown up in. His chance comes when the three top Nazis hatch a plan to invade England by drilling under the English Channel and into the heart of London.
Status:
Jackboots on Whitehall Movie Trailer
About the Movie
Jackboots on Whitehall is a satirical film portraying an alternative history of WWII in which the Nazis have seized London and England must band together at Hadrian's Wall if they are to prevent a German invasion. This is the first film of its kind to feature animatronic puppets and the voices of well-known British actors including Ewan McGregor, Rosamund Pike, Richard E. Grant, Timothy Spall, Richard O'Brien and Richard Griffiths. The film is currently scheduled to be released in the United Kingdom on October 8th 2010.
---
Movie Reviews
Movie Review from EmpireOnline.com

In 1940, Nazis tunnel into London, and it's up to an orphan (Ewan McGregor), a Yankee flier (Dominic West) and a motley bunch of country folk to save Churchill (Timothy Spall) from the Panzers. A British puppetmation with a star voice cast (Alan Cumming, Rosamund Pike, Richard E. Grant etc.) and a promising alternative World War II set-up, this suffers from a fatally unfunny script, unappealing characters and an unwise decision to ditch its 'England invaded' premise for a terrible Braveheart parody.

Read the Full Movie Review at EmpireOnline.com
Movie Review from TotalFilm.com

Where Hitler went wrong: not using puppets to invade Britain. Had he done so, WWII might well have turned out like this anarchic animation, in which Nazi stormtroopers tunnel to London to lay waste to Downing Street and kidnap Churchill. Luckily for Winnie, big-fisted farmer Chris (Ewan McGregor) is on hand to carry him away to "Scot Land" for a heroic last stand. The batty brainchild of sibling auteurs Edward and Rory McHenry, Jackboots wittily merges war flick iconography, Inglourious revisionism and Team America silliness to create a hilarious, endearing one-off.

Read the Full Movie Review at TotalFilm.com
Movie Review from TimeOut.com

If you were a filmmaker and wanted to recapture the spirit of 'Team America' – a hot-button satire, dressed in puerile clothes, full of smart film nods – in a British context, what story would you choose? Young brothers Edward and Rory McHenry, working with their father, production designer David McHenry, apply a similar extravaganza of bad taste, rendered with crude stop-motion animation and puppetry, to a counter-factual version of the Battle of Britain – one which adopts a tone a thousand times less solemn than Kevin Brownlow and Andrew Rollo's 'It Happened Here'.

Read the Full Movie Review at TimeOut.com
Movie Review from Telegraph.co.uk

Any real satirical ambition gets stamped out by boorish, splattery overkill in an admittedly enterprising British claymation comedy — an alternative history of the Second World War — which sadly plumps for lowest-common-denominator idiocy of the let's-put-Hitler-in-a-frilly-dress variety. It's no *Team America*, let alone a *South Park: Bigger, Longer and Uncut*.

Read the Full Movie Review at Telegraph.co.uk
---
'Jackboots on Whitehall' Stars
Alan Cumming, Dominic West, Edward McHenry, Ewan McGregor, Richard E. Grant, Rory McHenry, Rosamund Pike, Timothy Spall, Tom Wilkinson
---
'Jackboots on Whitehall' Movie Links

Jackboots on Whitehall on IMDb