---
Made in Dagenham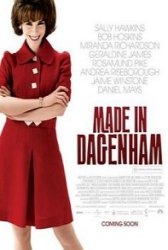 Starring: Rosamund Pike, Miranda Richardson, Bob Hoskins, Sally Hawkins, Rupert Graves, Richard Schiff
Director: Nigel Cole
Release Date:

November 19th, 2010
Release Date:

1st October, 2010
Synopsis: Rita O'Grady is the catalyst for the 1968 Ford Dagenham strike by women sewing machinists which led to the advent of the Equal Pay Act. Working in extremely impoverished conditions and for long arduous hours, the women at the Ford Dagenham plant finally lay down their tools when they are reclassified as 'unskilled'.
Status:
Made in Dagenham Movie Trailer
About the Movie
Made in Dagenham is a film directed by Nigel Cole. The film stars Sally Hawkins, Miranda Richardson, Rosamund Pike and Jaime Winstone. The film's theme song is performed by Sandie Shaw, herself a former Dagenham Ford worker.
---
Movie Reviews
Movie Review from EmpireOnline.com

Calendar Girls director Nigel Cole returns to comfortable ground after so-so Hollywood outings A Lot Like Love and $5 A Day with this true story of ordinary people wrestling with extraordinary circumstances, this time the injustice of women's pay during late-'60s Britain. Cole has assembled a superior cast (including Happy-Go-Lucky's Sally Hawkins), while Billy Ivory's screenplay offers comfortable archetypes (feisty factory girl; gruff but decent boss; ice queen with good heart et al) which they skilfully fill.

Read the Full Movie Review at EmpireOnline.com
Movie Review from TotalFilm.com

The campaign for equal pay probably deserves a less twee telling than Nigel Calendar Girls Cole's dramatisation of the headline-making 1968 strike by female workers at Ford's Dagenham car plant. Heading a cast of TV faces and Mike Leigh veterans, Sally Hawkins is typically fine as the ladies' leader, an Essex-based Norma Rae whose soft speaking voice makes her rabble-rousing all the more stirring. It's jolly stuff, yet for all the bawdy banter, there's a Boat That Rocked-like sense of a genuinely interesting moment being regurgitated as a cuddly sitcom.

Read the Full Movie Review at TotalFilm.com
Movie Review from Guardian.co.uk

There could hardly be anything more exotic and unfamiliar in mainstream commercial cinema than the story of a successful strike. But this is what screenwriter Billy Ivory and director Nigel Cole give us with their broad, primary-coloured, good-humoured comedy – almost, but not exactly, a shopfloor version of Calendar Girls (2003), also directed by Cole, the film about the WI women who posed nude to raise money for charity. Made in Dagenham is based on the Ford women car workers' strike of 1968, in which female staff sewing seat covers for Cortinas and Zephyrs went on strike for the same wage as the men. This commanded headlines, galvanised the political debate, and indirectly led to the Equal Pay Act of 1970.

Read the Full Movie Review at Guardian.co.uk
Movie Review from TimeOut.com

Nigel Cole directed 'Calendar Girls', and this is a similarly raucous but polite, women-out-of-water tale about the female machinists who went on strike at Ford Dagenham in the late 1960s and whose dispute was a milestone on the way to the Equal Pay Act of 1970. The film's original 'oo-er missus' title was 'We Want Sex', a gag about a slogan on a half-unfurled protest banner, which gives some idea of the populist approach of the filmmakers in remembering this key moment in our labour history.

Read the Full Movie Review at TimeOut.com
Movie Review from Telegraph.co.uk

What would feel-good Britcoms do without our great tradition of economic strife? Bemoan unemployment, say what you like about strikes, but they practically keep our film industry on its feet. When producer Stephen Woolley happened to catch an episode of The Reunion on Radio 4 about the women featured in Made in Dagenham, he must have thought Christmas had come early. This ebullient tale of feisty Ford factory seamstresses linking arms along the picket line in 1968 could no more neatly slot into the Full Monty/Billy Elliot mould of lucrative working-class uplift if the entire cast started pirouetting to Hot Chocolate.

Read the Full Movie Review at Telegraph.co.uk
---
'Made in Dagenham' Stars
Bob Hoskins, Miranda Richardson, Nigel Cole, Richard Schiff, Rosamund Pike, Rupert Graves, Sally Hawkins
---
'Made in Dagenham' Movie Links

Made in Dagenham on IMDb