---
Happy-Go-Lucky (2008)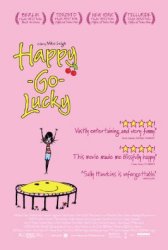 Starring: Sally Hawkins, Elliot Cowan, Alexis Zegerman, Andrea Riseborough, Sinead Matthews, Kate O'Flynn, Sarah Niles
Director: Mike Leigh
Release Date:

October 10th, 2008
Release Date:

18th April, 2008
Synopsis: Poppy is a life-loving, irrepressibly cheerful, Pollyanna-type primary school teacher who is thirty years old, single, and infinitely optimistic and accepting. She lives with her best friend and flatmate Zoe in London. She is tested by a repressed driving instructor with anger problems, and tests him in turn. She has exciting flamenco lessons, an encounter with a homeless man, a row with her pregnant sister, and a love-affair with the social worker guiding one of her students.
Status:
Happy-Go-Lucky Movie Trailer
About the Movie
Happy-Go-Lucky is a 2008 British comedy-drama film written and directed by Mike Leigh. The screenplay focuses on a cheerful and optimistic primary school teacher and her relationships with those around her. The film was well-received by critics and resulted in a number of awards for Leigh and lead actress Sally Hawkins.
---
Movie Reviews
Movie Review by TonyD
Score – 3½ out of 4
Mike Leigh's new film "Happy-Go-Lucky" is a fine example as to why the star-rating system is flawed. When someone uses the star-rating system, they are rating how much they liked or disliked the movie. A reviewer cannot use words to describe their feelings of a film when it comes to the star-rating system. As I was watching "Happy-Go-Lucky," I couldn't help but feel that I was missing something that every other reviewer got from it.
The above star-rating of the film is not rating my approval of the film. If I was to give you guys MY rating for the film, it would have been a star less. No, the rating above is me being nice to the film, telling you guys that you should go see it, because in all of the depressing films this year, such as "W." and "Twilight," you should go see a film that was hidden behind all others. It's cheery, but too cheery for me. I'm not sure what everyone else would get from the movie, but that's why I'm telling you now – just catch it on DVD sometime.

Read the Full 'Happy-Go-Lucky' Movie Review at FilmArcade.net
---
'Happy-Go-Lucky' Stars
Alexis Zegerman, Andrea Riseborough, Elliot Cowan, Kate O'Flynn, Mike Leigh, Sally Hawkins, Sarah Niles, Sinead Matthews
---
'Happy-Go-Lucky' Movie Links

Official Happy-Go-Lucky Movie Website


Happy-Go-Lucky on IMDb