---
I Love You Phillip Morris (2009)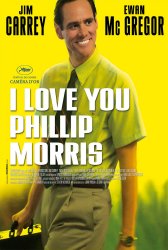 Starring: Jim Carrey, Ewan McGregor, Leslie Mann, Rodrigo Santoro, Nicholas Alexander, Michael Beasley
Director: Glenn Ficarra, John Requa
Release Date:

December 3rd, 2010
Release Date:

17th March, 2010
Synopsis: Steven Russell is happily married to Debbie, and a member of the local police force when a car accident provokes a dramatic reassessment of his life. Steven realizes he's gay and decides to live life to the fullest – even if it means breaking the law. Steven's new, extravagant lifestyle involves cons and fraud and, eventually, a stay in the State Penitentiary where he meets sensitive, soft-spoken Phillip Morris. His devotion to freeing Phillip from jail and building the perfect life together prompts Steven to attempt and often succeed at one impossible con after another.
Status:
I Love You Phillip Morris Movie Trailer
About the Movie
I Love You Phillip Morris is an comedy-drama film based on the real life events of con artist, impostor, and multiple prison escapee Steven Jay Russell played by Jim Carrey. While incarcerated, Russell falls in love with his cell mate, Phillip Morris (Ewan McGregor). After Morris is released from prison, Russell escapes from prison four times in order to be reunited with Morris.
---
Movie Reviews
Movie Review from EmpireOnline.com

I LOVE YOU PHILLIP MORRIS begins with a shot of an emaciated Jim Carrey, lying on a gurney, pining for death in a plaintive voiceover. For those of us who have endured Carrey's attempts at overwhelming Oscar with a tsunami of sentiment, this is not a good sign. You could be forgiven for thinking that what will follow is 90 minutes of cloying worthiness.

Read the Full Movie Review at EmpireOnline.com
Movie Review from TotalFilm.com

Sometimes, the problem with casting Jim Carrey is that you can never tell when he's acting at acting, acting, or just being Jim Carrey. There are so many layers of Carrey seething under the surface of his shape-shifting fizzog, it can be difficult to know which you're meant to focus on.

Read the Full Movie Review at TotalFilm.com
Movie Review from Guardian.co.uk

Jim Carrey's rubbery, hyperreal face achieves a sheen of panic and desperate neediness in this stranger-than-fiction comedy drawn from real life. Steven Russell (Carrey) is a fraudster, a hypnotically plausible fantasist, and a formerly married ex-cop who comes out as a gay man, before finally getting sent to jail in Texas for insurance scams, and there finding the love of his life. This is the shy, young innocent Phillip Morris, nicely played by Ewan McGregor, who, like the rest of the world, trusts the exuberant and charming Steven implicitly. Morris himself tells his own story in a seductive, honeyed voiceover, rather like Reese Witherspoon's narration in Alexander Payne's Election.

Read the Full Movie Review at Guardian.co.uk
Movie Review from TimeOut.com

Policeman, husband, father, closeted gay man, out gay man, fraudster, prison escapee, fake lawyer, embezzler, prison escapee (again)… Georgia's Steven Russell has led quite a life. He's a subject ripe for documentary treatment, but it's understandable why 'Bad Santa' writers Glenn Ficarra and John Requa have turned his wild CV into madcap comedy for their directing debut. Unleashing Jim Carrey makes a sort of sense, since his fast-talking energy might help us buy Russell's credibility-defying exploits.

Read the Full Movie Review at TimeOut.com
Movie Review from Telegraph.co.uk

I Love You Phillip Morris begins with the opposite of a disclaimer. The words "This really happened" appear on the screen.
Then, just to make sure you know you're in for one of the most batty and scarcely believable biopics of recent times, Glenn Ficarra and John Requa, who together wrote and directed the film, add: "It really did." Steve Russell (played by Jim Carrey) is a conman who makes Bernie Madoff look small time. He joins the police force in order to get access to documents that will let him track down the mother who gave him up for adoption as a young child.

Read the Full Movie Review at Telegraph.co.uk
---
'I Love You Phillip Morris' Stars
Ewan McGregor, Jim Carrey, Leslie Mann, Michael Beasley, Nicholas Alexander, Rodrigo Santoro
---
'I Love You Phillip Morris' Movie Links

Official I Love You Phillip Morris Movie Website


I Love You Phillip Morris on IMDb