---
Why Did I Get Married Too (2010)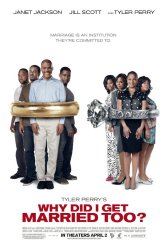 Starring: Michael Jai White, Tyler Perry, Tasha Smith, Louis Gossett Jr., Jill Scott, Janet Jackson
Director: Tyler Perry
Release Date:

April 2nd, 2010
Release Date:

3rd September, 2010
Synopsis: Four couples reunite for their annual vacation in order to socialize and to spend time analyzing their marriages. Their intimate week in the Bahamas is disrupted by the arrival of an ex-husband determined to win back his recently remarried wife.
Status:
Why Did I Get Married Too Movie Trailer
About the Movie
Why Did I Get Married Too? is an upcoming American comedy-drama film set to star Tyler Perry, Janet Jackson, and Tasha Smith. It is the sequel to Why Did I Get Married? (2007).
---
Movie Reviews
Movie Review from EmpireOnline.com

Don't be disturbed if you missed 2007's Why Did I Get Married; this is not the sort of sequel where in-depth knowledge of the original is vital. In Tyler Perry's latest domestic comedy/drama/melodrama, four couples (and a spare) find their relationships facing crises after a weekend in a beach house. The set-up is fine; it's the screeching and over-reactions that are harder for a British audience to take. The tendency of the females to freak out and prompt their men to philosophical "Well, bitches be crazy" musings feels lazy and patronising — a shame, because Perry is a charming presence and a likable lead.

Read the Full Movie Review at EmpireOnline.com
Movie Review from TotalFilm.com

A retread of Tyler Perry's 2007 US hit Why Did I Get Married? with added sourness and schmaltz.
The set-up's identical: four African-American couples go on holiday, only for lies to be exposed and fallout to spread. Whereas Perry hitherto proved sensitive to both sexes' grievances, this time he heaps blame on the ladies.
Thus, the paranoid shrew (Tasha Smith) is even shrewier; the workaholic (Sharon Leal) contemplates adultery; and, worst of all, the docile self-help authoress (Janet Jackson) turns into a raging banshee who instigates another family tragedy.

Read the Full Movie Review at TotalFilm.com
Movie Review from TimeOut.com

One of the most successful and prolific independent artists in modern American film, playwright-turned-director Tyler Perry has spent the past decade persuading audiences that African-Americans can be just as smug, shallow and bourgeois as their white brethren. 'Why Did I Get Married Too?' follows four troubled couples on a Bahamian getaway, where the men drink beer and talk about sex while their wives get massages and talk about love. Perry's directorial style is soapy and bland, his writing shallow and predictable.

Read the Full Movie Review at TimeOut.com
Movie Review from Movies.com

Every once in a while, and you can't predict when it's going to happen, Tyler Perry surprises you with a film that lives at least in the same zip code as reason, sensitivity and logic. (I'm not counting the Madea films. They're exempt from logic and should stay that way.) And then there's this movie. I've seen every Tyler Perry project and I hereby crown this one the most balls-out stupid of his career to date. It's got bad acting, bad writing, bad directing, bad everything. There are lengthy scenes near the beginning in which characters simply walk around looking at furniture and tropical views and talking about how lovely it all is in a way that approaches a level of otherwordly nothingness usually reserved for inept cult-of-badness movies like The Room.

Read the Full Movie Review at Movies.com
Movie Review from Telegraph.co.uk

Tyler Perry's gift for tapping a huge Afro-American audience remains a mystery. Here, four upscale couples (they drive Range Rovers and holiday in the Bahamas) sit in groups and talk – interminably – about their relationships. Even a scene with Janet Jackson trashing a living room cannot lighten the laboured atmosphere.

Read the Full Movie Review at Telegraph.co.uk
---
'Why Did I Get Married Too' Stars
Janet Jackson, Jill Scott, Louis Gossett Jr., Michael Jai White, Tasha Smith, Tyler Perry
---
'Why Did I Get Married Too' Movie Links

Official Why Did I Get Married Too Movie Website


Why Did I Get Married Too on IMDb