---
Yonkers Joe (2008)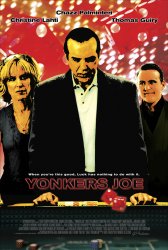 Starring: Chazz Palminteri, Christine Lahti, Tom Guiry, Michael Lerner, Linus Roache, Michael Rispoli, Roma Maffia
Director: Robert Celestino
Release Date:

January 9th, 2009
Synopsis: Yonkers Joe hustles, setting up schemes to cheat at cards and dice. He has a girlfriend, Janice, but does he care about her or just need a partner in his cons? He's working out a scam of casinos, gathering intelligence in Atlantic City. The fly in the ointment is his son, Joe Jr., a mentally-challenged young man about to turn 21, aging out of a group home, belligerent as the move to an adult home and his father's lack of contact upset him. Joe Jr.'s counselor insists that Joe take his son for awhile to calm him down and prepare him for the transfer.
Status:
Yonkers Joe Movie Trailer
About the Movie
Yonkers Joe is a 2008 American film starring Chazz Palminteri, Christine Lahti, Tom Guiry, Michael Lerner, and Linus Roache. It debuted at the 2008 Tribeca Film Festival.
---
'Yonkers Joe' Stars
Chazz Palminteri, Christine Lahti, Linus Roache, Michael Lerner, Michael Rispoli, Robert Celestino, Roma Maffia, Tom Guiry
---
'Yonkers Joe' Movie Links

Yonkers Joe on IMDb