---
A Christmas Carol (2009)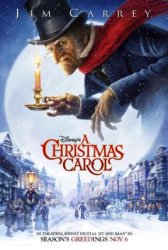 Starring: Jim Carrey, Robin Wright Penn, Colin Firth, Gary Oldman, Michael J. Fox, Cary Elwes, Daryl Sabara, Bob Hoskins
Director: Robert Zemeckis
Release Date:

November 6th, 2009
Release Date:

6th November, 2009
Synopsis: Charles Dickens' timeless tale of an old miser who must face Ghosts of Christmas Past, Present and Yet-to-Come, as they help to bring kindness to his otherwise cold heart. The Ghosts remind him of the man he used to be, the hard truth of what the world is today, and what will happen if he does not strive to be a better man. Set around Christmas, the most joyous day of the year, Scrooge realizes the sharp contrast of his own personality. Jim Carrey plays four separate roles in this updated version of A Christmas Carol. Carrey portrays Scrooge, as well as the three ghosts.
Status:
A Christmas Carol Movie Trailer
About the Movie
A Christmas Carol is a 2009 film adaptation of Charles Dickens' 1843 story of the same name. The film is written and directed by Robert Zemeckis, and stars Jim Carrey in a multitude of roles, including Ebenezer Scrooge as a young, middle-aged, and old man, and the three ghosts who haunt Scrooge.
The 3-D film will be produced through the process of performance capture, a technique Zemeckis has previously used in his films The Polar Express (2004) and Beowulf (2007).
A Christmas Carol began filming in February 2008, and will be released on November 6, 2009 by Walt Disney Pictures. It will receive its world premiere in London, coinciding with the switching on of the annual Oxford Street and Regent Street Christmas lights, which in 2009 will have a Dickens theme.
The film will be released in Disney Digital 3-D and IMAX 3-D. It will also be Disney's third retelling of A Christmas Carol in 26 years, having released Mickey's Christmas Carol in 1983 (using the in-house Mickey Mouse & Donald Duck characters) and later distributing The Muppet Christmas Carol for Jim Henson Productions in 1992, with Disney later acquiring the rights to The Muppets from Jim Henson Productions.
---
'A Christmas Carol' Stars
Bob Hoskins, Cary Elwes, Colin Firth, Daryl Sabara, Gary Oldman, Jim Carrey, Michael J. Fox, Robert Zemeckis, Robin Wright Penn
---
'A Christmas Carol' Movie Links

Official A Christmas Carol Movie Website


A Christmas Carol on IMDb