---
Harry Potter and the Order of the Phoenix (2007)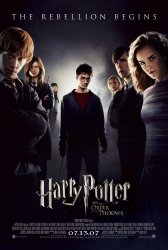 Starring: Daniel Radcliffe, Rupert Grint, Emma Watson, Helena Bonham Carter, Robbie Coltrane, Warwick Davis, Ralph Fiennes, Michael Gambon, Brendan Gleeson, Richard Griffiths, Jason Isaacs, Gary Oldman, Alan Rickman, Maggie Smith, Imelda Staunton, David Thewlis, Emma Thompson, Julie Walters
Director: David Yates
Release Date:

July 11th, 2007
Release Date:

12th July, 2007
Synopsis: After a lonely summer on Privet Drive, Harry returns to a Hogwarts full of ill-fortune. Few of the students and parents believe him or Dumbledore that Voldemort is really back. The ministry had decided to step in by appointing a new Defence Against the Dark Arts teacher that proves to be the nastiest person Harry has ever encountered. Harry also can't help stealing glances with the beautiful Cho Chang. To top it off are dreams that Harry can't explain, and a mystery behind something Voldemort is searching for. With these many things Harry begins one of his toughest years at Hogwarts School of Witchcraft and Wizardry.
Status:
Harry Potter and the Order of the Phoenix Movie Trailer
Harry Potter and the Order of the Phoenix Teaser Trailer
About the Movie
Harry Potter and the Order of the Phoenix is a 2007 fantasy adventure film, based on the novel of the same name by J. K. Rowling. Directed by David Yates, produced by David Heyman's company Heyday Films, and written by Michael Goldenberg, it is the fifth film in the popular Harry Potter film series. The story follows Harry Potter in his fifth year at the magic school Hogwarts. The Ministry of Magic refuses to believe the return of Lord Voldemort and appoints bureaucrat Dolores Umbridge as a teacher at the school.
Live-action filming took place in England and Scotland for exterior locations and Leavesden Film Studios in Watford for interior locations from February to November 2006, with a one-month break in June. Post-production on the film continued for several months afterwards to add in visual effects. The film's budget was reportedly between £75 and 100 million ($150–200 million). Warner Bros., the distributor of the film, released it in the UK on 12 July 2007, and in North America on 11 July, both in conventional and IMAX theatres, and was the first Potter film to be released in IMAX 3-D.
It is the unadjusted seventh-highest grossing film of all time, and a critical and commercial success, acclaimed as "the best one yet" by Rowling, who has consistently offered praise for the film adaptations of her work. The film opened to a worldwide 5-day opening of $333 million, third all-time, and grossed $939 million total, the second to Pirates of the Caribbean: At World's End for the greatest total of 2007.
---
'Harry Potter and the Order of the Phoenix' Stars
Alan Rickman, Brendan Gleeson, Daniel Radcliffe, David Thewlis, David Yates, Emma Thompson, Emma Watson, Gary Oldman, Helena Bonham Carter, Imelda Staunton, Jason Isaacs, Julie Walters, Maggie Smith, Michael Gambon, Ralph Fiennes, Richard Griffiths, Robbie Coltrane, Rupert Grint, Warwick Davis
---
'Harry Potter and the Order of the Phoenix' Movie Links

Official Harry Potter and the Order of the Phoenix Movie Website


Harry Potter and the Order of the Phoenix on IMDb