---
Back to the Future (1985)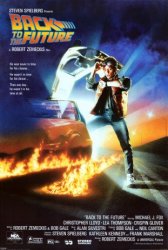 Starring: Michael J. Fox, Christopher Lloyd, Lea Thompson, Crispin Glover, Thomas F. Wilson
Director: Robert Zemeckis
Release Date:

July 3rd, 1985
Release Date:

4th December, 1985
Synopsis: The year is 1985 and Marty McFly is your everyday teenager, except for one problem. He is stuck in 1955. After his good friend Doc Emmett Brown is gunned down, Marty ends up sending the DeLorean back thirty years into the past. Now, he must find the Doc and convince him that he is from the future, in order for the Doc to send him back to the future, but this is the least of Marty's problem. After accidentally getting in the way of the important meeting between his future mother and father, Marty must get them back together before he changes time forever, and destroys his own existence.
Status:
Back to the Future Movie Trailer
About the Movie
Back to the Future is a 1985 American comedic science fiction film directed by Robert Zemeckis, co-written by Bob Gale and produced by Steven Spielberg. The film stars Michael J. Fox as Marty McFly, as well as Christopher Lloyd, Crispin Glover, Lea Thompson and Thomas F. Wilson. Back to the Future tells the story of Marty McFly, a teenager who is accidentally sent back in time from 1985 to 1955. He meets his parents in high school, accidentally attracting his mother's romantic interest. Marty must repair the damage to history by causing his parents to fall in love, while finding a way to return to 1985.
Zemeckis and Gale wrote the script after Gale mused upon whether he would have befriended his father if they attended school together. Various film studios rejected the script until the box office success of Zemeckis' Romancing the Stone, and the project was set up at Universal Pictures with Spielberg as executive producer. Eric Stoltz was originally cast as Marty McFly when Michael J. Fox declined as he was busy filming the TV series Family Ties. However, during filming Stoltz and the filmmakers decided Stoltz was miscast, so they asked Fox again and he managed to work out a timetable in which he could give enough time and commitment to both; the subsequent recasting meant the crew had to race through reshoots and post-production to complete the film for its July 3, 1985 release date.
When released, it became the most successful film of the year, grossing more than $380 million worldwide and receiving critical acclaim. It won the Hugo Award for Best Dramatic Presentation and the Saturn Award for Best Science Fiction Film, as well as Academy Award, BAFTA and Golden Globe nominations. Ronald Reagan even quoted the film in the 1986 State of the Union Address. In 2007, the Library of Congress selected it for preservation in the National Film Registry, and in June 2008 the American Film Institute's special AFI's 10 Top 10 acknowledged the film as the 10th best film in the science fiction genre. The movie marked the beginning of a franchise, with Back to the Future Part II and Back to the Future Part III released back-to-back in 1989 and 1990, as well as an animated series and theme park ride.
---
Movie Reviews
Movie Review from TotalFilm.com

Time-traveling 'teen' Marty McFly (Michael J. Fox) is on a mission: to get home from the '50s, make his dad (Crispin Glover) man up, avoid shagging his mum (Lea Thompson) and invent rock 'n' roll. Again. And it's just as entertaining as it was in '85. Spruced up with a pin-sharp 25th anniversary print (which doesn't do the old-age make-up any favours), Robert Zemeckis' popcorn classic combines watertight scripting with broad but brilliant performances, all held together by Fox's stumbling charm.

Read the Full Movie Review at TotalFilm.com
Movie Review from TimeOut.com

Teenager Marty McFly's dad is a hideous wimp, his mother a dipso, so he befriends mad scientist Dr. Brown (Lloyd). In a DeLorean time machine they travel back to 1955, the year his parents met in high school. But at that age, mom rather fancies her offspring more than his prospective father. Zemeckis takes obvious pleasure in solving not just the technical but also the emotional problems of time travel: how to avoid incest, how to unite your parents in order that you will be born, how to return to the future when both the car and the professor have blown a fuse, and above all how to avoid tampering with history.

Read the Full Movie Review at TimeOut.com
Movie Review from Telegraph.co.uk

I vividly remember the release of Back to the Future 25 years ago – the first movie that my young children and I genuinely loved. It arrived with little fanfare as an action-heavy special-effects franchise film, but proved that charm, wit and genuine excitement were not incompatible with that definition. In this re-mastered anniversary re-issue, Michael J Fox is the amiable young Marty McFly, jumping into his gull-winged DeLorean, which doubles as a time machine, and wild-eyed Christopher Lloyd is a joy as the nutty, irascible scientist Doc Brown. Small-town America is portrayed with gentle, affectionate humour.

Read the Full Movie Review at Telegraph.co.uk
---
'Back to the Future' Stars
Christopher Lloyd, Crispin Glover, Lea Thompson, Michael J. Fox, Robert Zemeckis, Thomas F. Wilson
---
'Back to the Future' Movie Links

Back to the Future on IMDb