---
Piranha 3-D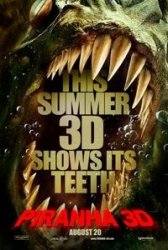 Starring: Adam Scott, Christopher Lloyd, Elisabeth Shue, Ving Rhames, Eli Roth, Dina Meyer, Jerry O'Connell
Director: Alexandre Aja
Release Date:

August 27th, 2010
Release Date:

20th August, 2010
Synopsis: Every year the population of sleepy Lake Victoria explodes from 5,000 to 50,000 for Spring Break, a riot of sun and drunken fun. But this year, there's something more to worry about than hangovers and complaints from local old timers; a new type of terror is about to be cut loose on Lake Victoria. After a sudden underwater tremor sets free scores of the prehistoric man-eating fish, an unlikely group of strangers must band together to stop themselves from becoming fish food for the areas new razor-toothed residents.
Status:
Piranha 3-D Movie Trailer
About the Movie
Piranha 3-D is an upcoming 3D horror film to be directed by Alexandre Aja and featuring an ensemble cast including actors such as Elisabeth Shue, Richard Dreyfuss, Jerry O'Connell, Christopher Lloyd, Ving Rhames, Dina Meyer, Ricardo Chavira, Paul Scheer, and Eli Roth. It is a remake of the 1978 film Piranha. The script was written by Patrick Melton and Marcus Dunstan of the Feast and Saw series, as well as Chuck Russell. It is scheduled for an August 27, 2010 release.
---
Movie Reviews
Movie Review from EmpireOnline.com

If nothing else, the new Piranha is worth it for a 3D nude underwater lesbian ballet – as Kelly Brook (bless!) and porn star Riley Steele simultaneously hold their breaths and each other's breasts to the tune of that opera aria (the Flower Duet from Lakmé by Delibes) familiar as the sapphic sex theme in The Hunger. With a barely minimal explanation, mutant cannibal piranha from the Pleistocene start munching on everyone in sight! Actors are pretty much superfluous, but Sheriff Elisabeth Shue does one great stepping-from-one-upturned-boat-to-the-next stunt, Christopher Lloyd sells the lunatic icthyology lecture, Ving Rhames takes on fish with a shotgun, and Jerry O'Connell's prosthetic penis features in a scene without precedent in legal films.

Read the Full Movie Review at EmpireOnline.com
Movie Review from TotalFilm.com

Kelly Brook has had her knockers, but no one can accuse her of not making the most of her assets.
And nobody could accuse Alexandre Aja of not doing the same in his stereoscope redo of Joe Dante's 1978 fish-athon, there being almost as many shots of the Brit babe's mammaries as there are of the prehistoric flesh eaters that give it its name.

Read the Full Movie Review at TotalFilm.com
Movie Review from Hollywood.com

Those who've watched MTV's Spring Break and wished for its undulating crew of debauched partiers to be devoured wholesale, or who've witnessed Girls Gone Wild's shameless exploitation of drunken college girls and longed for its smarmy founder, Joe Francis, to receive a grisly dose of karmic justice, or who've seen any of Eli Roth's films and hoped for the "torture-porn" impresario to receive a dose of his own vile medicine, will find their catharsis in Piranha 3D. What they will not find is much in the way of a plot, quality acting, or anything remotely resembling restraint. But you weren't really expecting that in a film about killer fish, were you?

Read the Full Movie Review at Hollywood.com
Movie Review from TimeOut.com

Alexandre Aja says his 3D re-working of Joe Dante's 1978 original is an attempt to recreate the 'guilty pleasure movies' of his youth. So here, in the best/worst traditions of '70s exploitation cinema, are flesh-eating fishy gore, lip-smacking nudity and lots of laugh-out-loud silliness. If you're looking for the anti-establishment message found in the John Sayles' scripted, Roger Corman-produced 'Jaws' rip-off, you will be disappointed. However, the re-make's cheesy, eye-popping 3D effects – flayed bodies, naked breasts, vomit and a severed penis are all flung out of the screen – are an authentic, affectionate throwback to cheapo Cormanesque excess.

Read the Full Movie Review at TimeOut.com
Movie Review from Movies.com

So yeah, Inception may be the most original mind-bender of the summer, Toy Story 3 the most emotionally satisfying, the latest from French masters Alain Resnais (Wild Grass) and Jacques Rivette (Around a Small Mountain) the ones that renewed my respect for amazing Euro-cinema and Scott Pilgrim vs. the World the most flashy and joyful. But I haven't shouted out loud more or had more hit-the-armrest fun at a movie than at this one all summer–all year–long. Once it revs up it just goes faster and faster and gets crazier and crazier until you're out of breath from all the insane, humanity-shredding entertainment.

Read the Full Movie Review at Movies.com
Movie Review from Telegraph.co.uk

The suspense is as skimpy as the swimwear in this shameless 3D remake of Joe Dante's 1978 Jaws spoof, directed by French gore specialist Alexandre Aja. The presence of Kelly Brook, who acquits herself fine, typifies an excessively guilty bit of Friday-night trash — it wants to have its breasts and eat them. It's spring break at a lake in Arizona, and a minor quake unleashes prehistoric gnashers on an unsuspecting parade of partying hotties, under the concerned eye of Elisabeth Shue's sassy sheriff.

Read the Full Movie Review at Telegraph.co.uk
---
'Piranha 3-D' Stars
Adam Scott, Alexandre Aja, Christopher Lloyd, Dina Meyer, Eli Roth, Elisabeth Shue, Jerry O'Connell, Ving Rhames
---
'Piranha 3-D' Movie Links

Official Piranha 3-D Movie Website


Piranha 3-D on IMDb