---
Back to the Future Part II (1989)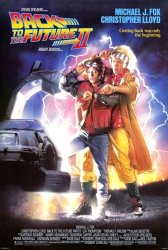 Starring: Michael J. Fox, Christopher Lloyd, Lea Thompson, Thomas F. Wilson, Elisabeth Shue
Director: Robert Zemeckis
Release Date:

November 22nd, 1989
Release Date:

24th November, 1989
Synopsis: Doc, Marty and Jennifer take the time-traveling DeLorean into the year 2015 to straighten out the future of the McFly family. But Biff Tannen steals the time machine and gives his younger self a book containing 50 years of sports statistics, which the young Biff uses to amass an enormous gambling fortune and transform idyllic Hill Valley into a living hell. To restore the present, Doc and Marty must return to the events of their previous adventure in 1955 and retrieve the book.
Status:
Back to the Future Part II Movie Trailer
About the Movie
Back to the Future Part II is a 1989 science fiction adventure film and a sequel to the 1985 film Back to the Future. Like the previous film, it was directed by Robert Zemeckis and written by Zemeckis and Bob Gale. Part II and the third installment of the trilogy, Back to the Future Part III, were filmed back-to-back, with some of the scenes of Parts II and III filmed concurrently, and released six months apart. Although released in 1989 and 1990, both films continued to portray 1985 as the present, due to them directly following the events of the first film.
Part II follows the continued adventures of Marty McFly and "Doc" Emmett Brown as they use their time-traveling DeLorean to travel into a retro-futuristic version of 2015, an alternative 1985 and the principal setting of the first film in 1955. The film ends with a cliffhanger that is resolved in Part III.
---
'Back to the Future Part II' Stars
Christopher Lloyd, Elisabeth Shue, Lea Thompson, Michael J. Fox, Robert Zemeckis, Thomas F. Wilson
---
'Back to the Future Part II' Movie Links

Back to the Future Part II on IMDb