---
Alone in Berlin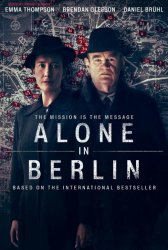 Starring: Emma Thompson, Brendan Gleeson, Daniel Brühl
Director: Vincent Perez
Release Date:

30 June 2017
Running Time: 103 Mins
Synopsis: Berlin, 1940. Working class couple Otto and Anna Quangel receive the news that their only son has lost his life in the battlefield and decide to resist the Nazi regime in their very own way. Soon the Gestapo is hunting "the threat".
Status:
About the Movie
Alone in Berlin is a 2016 war drama film directed by Vincent Pérez and written by Pérez and Achim von Borries, based on the 1947 fictionalized novel Alone in Berlin by Hans Fallada. The novel's characters Otto and Anna Quangel are based on the real lives of Otto and Elise Hampel. When their son dies in France, the couple start writing postcards to urge people to protest against Adolf Hitler and the Nazi regime. The film stars Emma Thompson, Brendan Gleeson, and Daniel Brühl.
---
'Alone in Berlin' Stars
Brendan Gleeson, Daniel Brühl, Emma Thompson, Vincent Perez
---
'Alone in Berlin' Movie Links

Alone in Berlin on IMDb


Alone in Berlin on Wikipedia