---
Nanny McPhee and the Big Bang (2010)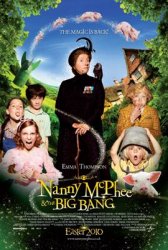 Starring: Maggie Gyllenhaal, Ralph Fiennes, Emma Thompson, Maggie Smith, Rhys Ifans, Daniel Mays
Director: Susanna White
Release Date:

26th March, 2010
Synopsis: Nanny McPhee arrives to help a harried young mother who is trying to run the family farm while her husband is away at war, though she uses her magic to teach the woman's children and their two spoiled cousins five new lessons.
Status:
Nanny McPhee and the Big Bang Movie Trailer
About the Movie
Nanny McPhee and the Big Bang is an upcoming family film. It is a sequel to the 2005 film Nanny McPhee. It was adapted by Emma Thompson from Christianna Brand's Nurse Matilda books. Thompson reprises her role as Nanny McPhee, and the film also stars Maggie Gyllenhaal, Ralph Fiennes, Rhys Ifans, Maggie Smith, Asa Butterfield, Bill Bailey and Katy Brand.
---
Movie Reviews
Movie Review from TimeOut.com

The post-Poppins supernanny returns thanks to capable screenwriter-star Emma Thompson, who's set the story during World War Two when daddies are away fighting, and children man the home front. Down on the farm, Maggie Gyllenhaal's Mrs Green is at a loss when her three terrors are joined by their posh cousins, evacuated from the threat of bombs over Kensington, though it's not long before ex-military Nanny McPhee instils improving discipline. The mix is similar to the first film, naughtiness versus magic, but nimbler this time as it shuttles from class warfare to unscrupulous spivs (draft-dodging well-dodgy uncle Rhys Ifans) and the prospect of enemy attack.

Read the Full Movie Review at TimeOut.com
---
'Nanny McPhee and the Big Bang' Stars
Daniel Mays, Emma Thompson, Maggie Gyllenhaal, Maggie Smith, Ralph Fiennes, Rhys Ifans, Susanna White
---
'Nanny McPhee and the Big Bang' Movie Links

Nanny McPhee and the Big Bang on IMDb