---
An American Carol (2008)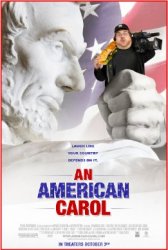 Starring: Kevin P. Farley, Kelsey Grammer, Trace Adkins, Robert Davi, Jon Voight, James Woods, Dennis Hopper, Leslie Nielsen
Director: David Zucker
Release Date:

October 3rd, 2008
Synopsis: In An American Carol a cynical, Anti-American Hollywood filmmaker sets out on a crusade to abolish the 4th of July holiday. He is visited by three spirits who take him on a hilarious journey in an attempt to show him the true meaning of America.
Status:
An American Carol Movie Trailer
About the Movie
An American Carol is a 2008 American comedy film, directed by David Zucker and starring Kevin Farley. Outside North America, the film is known as Big Fat Important Movie. Presented from a conservative perspective, the film is a parody of liberal filmmaker Michael Moore that "lampoons contemporary American culture, particularly Hollywood." It uses the framework of A Christmas Carol but moves the setting of the story from Christmas to Independence Day. The screenplay is written by Myrna Sokoloff and Zucker. The supporting cast includes Kelsey Grammer, Jon Voight, Dennis Hopper, Trace Adkins, Gary Coleman, Jillian Murray and Leslie Nielsen. The film was released on October 3, 2008.
---
'An American Carol' Stars
David Zucker, Dennis Hopper, James Woods, Jon Voight, Kelsey Grammer, Kevin P. Farley, Leslie Nielsen, Robert Davi, Trace Adkins
---
'An American Carol' Movie Links

Official An American Carol Movie Website


An American Carol on IMDb