---
Annie Hall (1977)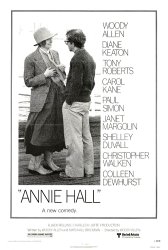 Starring: Woody Allen, Diane Keaton, Tony Roberts, Carol Kane, Paul Simon, Shelley Duvall, Janet Margolin, Colleen Dewhurst, Christopher Walken
Director: Woody Allen
Release Date:

April 20th, 1977
Synopsis: After breaking up with his girlfriend Annie Hall, neurotic comedian Alvy Singer goes on a stream of conciousness journey through his memories of their relationship, trying to find out what caused them to part ways. He often breaks the fourth wall, speaking to the camera, entering peoples' stories, and even using animation.
Status:
About the Movie
Annie Hall is a 1977 American romantic comedy film directed by Woody Allen from a script co-written with Marshall Brickman. One of Allen's most popular films, it won numerous awards at the time of its release, including four Academy Awards, and in 2002 Roger Ebert referred to it as "just about everyone's favorite Woody Allen movie".
Allen had previously been known as a maker of zany comedies; the director has described Annie Hall as "a major turning point", as it brought a new level of seriousness to his work.
---
'Annie Hall' Stars
Carol Kane, Christopher Walken, Colleen Dewhurst, Diane Keaton, Janet Margolin, Paul Simon, Shelley Duvall, Tony Roberts, Woody Allen
---
'Annie Hall' Movie Links

Annie Hall on IMDb