---
Whatever Works (2009)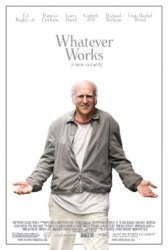 Starring: Henry Cavill, Evan Rachel Wood, Patricia Clarkson, Kristen Johnston, Michael McKean, Larry David, Ed Begley Jr.
Director: Woody Allen
Release Date:

June 19th, 2009
Release Date:

25th June, 2010
Synopsis: Attempting to impress his ideologies on religion, relationships, and the randomness (and worthlessness) of existence, lifelong New York resident Boris Yellnikoff rants to anyone who will listen, including the audience. But when he begrudgingly allows naive Mississippi runaway Melodie St. Ann Celestine to live in his apartment, his reclusive rages give way to an unlikely friendship and Boris begins to mold the impressionable young girl's worldly views to match his own. When it comes to love, "whatever works" is his motto, but his already perplexed life complicates itself further when Melodie's parents eventually track her down.
Status:
Whatever Works Movie Trailer
About the Movie
Whatever Works is an upcoming 2009 comedy film written and directed by the prolific film maker Woody Allen. This film stars Evan Rachel Wood, Patricia Clarkson, Kristen Johnston, Larry David, Ed Begley, Jr., Michael McKean, and Henry Cavill. Wood plays the naïve young wife of Larry David's Ebenezer Scrooge-like[1] character. The film is a dark comedy starring Larry David as an eccentric man from Greenwich Village who gets caught up in a series of love stories which get him in tangled up with a young girl from the south (Evan Rachel Wood) and her parents. The movie was filmed in New York City, marking Allen's return to that city after a four-film sojourn to Europe. "It's very classic Woody Allen but it's still different than anything he's done," revealed Evan Rachel Wood in a December 2008 interview.
On February 2, 2009, Variety reported that Sony Picture Classics had purchased U.S. distribution rights to Whatever Works. Sony will release the film on June 19, 2009.
It premiered on April 22, 2009, at the Tribeca Film Festival in New York City.
---
'Whatever Works' Stars
Ed Begley Jr., Evan Rachel Wood, Henry Cavill, Kristen Johnston, Larry David, Michael McKean, Patricia Clarkson, Woody Allen
---
'Whatever Works' Movie Links

Official Whatever Works Movie Website


Whatever Works on IMDb