---
Vicky Cristina Barcelona (2008)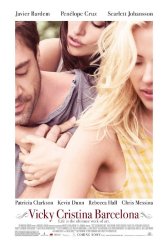 Starring: Rebecca Hall,Scarlett Johansson, Javier Bardem, Penélope Cruz, Christopher Evan Welch, Chris Messina, Patricia Clarkson, Kevin Dunn
Director: Woody Allen
Release Date:

August 15th, 2008
Release Date:

13th February, 2009
Synopsis: Vicky and Cristina visit Barcelona for their summer, staying with Vicky's distant relative Judy and her husband, Mark Nash. Vicky is practical and traditional in her approach to love and commitment, and is engaged to the reliable but unromantic Doug. She is in Barcelona getting her masters in Catalan Identity, a project spawned by her love of the works of Gaudí, and is emotionally moved by Spanish guitar. Cristina, on the other hand, is spontaneous and unsure of what she wants in life. She is just out of a relationship and wants to get over the bad time she had making a 12-minute film about Love.
Status:
Vicky Cristina Barcelona Movie Trailer
About the Movie
Vicky Cristina Barcelona is a 2008 American/Spanish romantic comedy-drama film written and directed by Woody Allen. The film stars Javier Bardem, Penélope Cruz, Scarlett Johansson and Rebecca Hall.
The plot centers on two American women, Vicky and Cristina, spending a summer in Barcelona, where they meet an artist who is attracted to both of them while still enamored of his mentally and emotionally unstable ex-wife María Elena. The film was shot in Avilés, Barcelona, and Oviedo, and was Allen's fourth consecutive film shot outside of the United States.
The film premiered at the 2008 Cannes Film Festival, then received a rolling worldwide general release that started in August 15, 2008 in the U.S., and continued in various countries each month until the June 2009 release in Japan.
---
'Vicky Cristina Barcelona' Stars
Chris Messina, Christopher Evan Welch, Javier Bardem, Kevin Dunn, Patricia Clarkson, Penélope Cruz, Rebecca Hall, Scarlett Johansson, Woody Allen
---
'Vicky Cristina Barcelona' Movie Links

Vicky Cristina Barcelona on IMDb