---
Appaloosa (2008)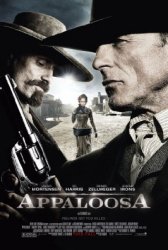 Starring: Viggo Mortensen, Ed Harris, Renée Zellweger, Jeremy Irons, Timothy Spall, Lance Henriksen
Director: Ed Harris
Release Date:

October 3rd, 2008
Synopsis: Set in the Old West territory of New Mexico, "Appaloosa" revolves around a pair of hired guns who come to clean up a dangerous town run by a ruthless, powerful rancher and his band of outlaws. While boldly bringing new order to the town, the two fearless lawmen meet a provocative outsider whose unconventional ways threaten to destroy their decade-old bond.
Status:
About the Movie
Appaloosa is a 2008 American Western film based on the 2005 novel of the same name by crime writer Robert B. Parker. The film was directed by Ed Harris and co-written by Harris and Robert Knott. Appaloosa stars Harris alongside Viggo Mortensen, Renée Zellweger, and Jeremy Irons. The film premiered in the 2008 Toronto International Film Festival, was released in select cities on September 19, 2008 and expanded into wide-release on October 3, 2008.
The movie shares some narrative similarities with the 1959 Western Warlock, directed by Edward Dmytryk and starring Henry Fonda, Anthony Quinn and Richard Widmark. There is also a 1966 Western named The Appaloosa which stars Marlon Brando, but the two films are unrelated.
---
Movie Reviews
Movie Review by Marty Meltz
Quality – 7 out of 10
Refreshing, a deceptively simple Western with a good old one-on-one gun duel at the end.
"Appaloosa" is a real charmer in the age-old wonderfully American prototype late 19th century lawmen-vs.-baddie scenario. It's enchantingly uncomplicated, right to the point, but does have a propensity for improbably successful derring-do by the heroes. Time and again the two confront a ruthless villain in situations that leave them impossibly vulnerable. If I were this scoundrel, who's already demonstrated his cold-blooded nature, I could think of any number of ways to get a bullet into one of the other of them.
Besides its straightforwardness, the film rides very smoothly on its concise, veiled threat, he-man dialogue. Ed Harris clearly is loving it, his put downs of the bad guy's verbal thrusts being absolutely choice.
In this old-timey Western, here are two well-togged roving lawmen, Virgil Cole and Everett Hitch (Ed Harris and Viggo Mortensen). They're fancy types, these two, and reckon as how they might not shine up to being called guns for hire. Well now, here they are moseyin' into a little New Mexico town right after the local marshal and two of his deputies have been gunned down by gang leader Randall Bragg (Jeremy Irons). Bragg has in mind the total control of a major part of the territory.
So, good lawmen as Cole and Hitch are, they spell out the law to the local civic leaders. Soon enough, after taking out three of Bragg's boys who stopped in to test them, they're confronted by Bragg himself. Growls Bragg, "Maybe you aren't good enough."
Also in the brew is newly arrived widow Allison French (Renee Zellweger) who appears to be a right proper lady. Virgil likes this piano-playing flower but he'll learn that right 'n proper doesn't really describe her well. It'll come as shock to Virgil given his history with whores. And Everett? Well, he's a bit amused by all this, especially after he learns of her true nature when it comes to matters of amour, his revelations later offered to his very shocked and disillusioned partner.
The tale stirs when one of Bragg's gang pays a visit to say he'll testify in court against his boss. When Virgil and Everett manage to arrest Bragg, they figure quite accurately that his men will try to spring him and kill the witness. Further events will expand the basic situation into some good surprises.
If you just plain loved the old Westerns, you will be satisfied, or more so, with this. It's quirky in its unadorned treatment of verbal as well as physical assaults. And while Mortensen is functional, Harris is often hypnotic in his response timing. Master British actor Jeremy Irons is under scripted and he seems to know it.
The overall mood is catchy in its deliberative pace and plain scenics, the face downs are as compelling as they are amusing, and the ending is beguilingly unpretentious.

Read More Movie Reviews at Marty at the Movies
---
'Appaloosa' Stars
Ed Harris, Jeremy Irons, Lance Henriksen, Renée Zellweger, Timothy Spall, Viggo Mortensen
---
'Appaloosa' Movie Links

Official Appaloosa Movie Website


Appaloosa on IMDb