---
Black Dynamite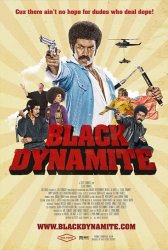 Starring: Michael Jai White, Arsenio Hall, Tommy Davidson, Kevin Chapman, Richard Edson, Darrel Heath, Buddy Lewis
Director: Scott Sanders
Release Date:

October 16th, 2009
Release Date:

13th August, 2010
Synopsis: This is the story of 1970s African-American action legend Black Dynamite. The Man killed his brother, pumped heroin into local orphanages, and flooded the ghetto with adulterated malt liquor. Black Dynamite was the one hero willing to fight The Man all the way from the blood-soaked city streets to the hallowed halls of the Honky House.
Status:
Black Dynamite Movie Trailer
About the Movie
Black Dynamite is a 2009 American/British film starring Michael Jai White, Salli Richardson, Arsenio Hall, Kevin Chapman and Tommy Davidson. It is a spoof of blaxploitation films of the 1970s. The film is directed by Scott Sanders and David M. Thompson (uncredited) and co-written by White, Sanders, and Byron Minns, who also co-stars. In the film, former CIA agent Black Dynamite must avenge his brother's death while cleaning the streets of a new drug which is ravaging the community.
The film had a trailer and funding even before a script was written. Black Dynamite was shot in a twenty day schedule in Super 16 film. The film was released on October 16, 2009, in the United States, for only two weeks. Despite being well-received by critics, Black Dynamite only grossed $242,578 in the United States. Black Dynamite was released on home video on February 16, 2010.
---
Movie Reviews
Movie Review from EmpireOnline.com

Blaxploitation films have been satirised, notably in the sub-Airplane! spoof I'm Gonna Git You Sucka. But Black Dynamite is the real deal, a fast comedy that knows and loves its subject. Anchored by Michael Jai White's superb display as the mean mofo cop brought out of retirement after his brother's murder, this sharp skewering of '70s afro-action comes with an attention to detail not yet seen, with library footage, soul ballads that comment on the unfolding story, and wooden actors who read out their direction along with their lines ("Sarcastically, I'm in charge").

Read the Full Movie Review at EmpireOnline.com
Movie Review from TotalFilm.com

After a career on the sidelines, Michael Jai White ascends to lead this superlative send-up of the blaxploitation genre.
As the titular ex-CIA man, White reveals comic talents to match his martial artistry, delivering one-liners and roundhouse kicks with the same killer precision.

Read the Full Movie Review at TotalFilm.com
Movie Review from Guardian.co.uk

There are outrageous gags, reckless bad taste and affectionate attention to detail in this funny blaxploitation spoof-homage from writer, actor and martial arts hombre Michael Jai White. He stars as "Black Dynamite", an Afro-and-moustache-sporting warrior of the 1970s: former Vietnam vet, undercover CIA operative and righteous badass who is convulsed with rage when the Man murders his brother, and starts pushing heroin at the local orphanage.

Read the Full Movie Review at Guardian.co.uk
Movie Review from TimeOut.com

Enjoyable as it is, in its affectionate way, there's a feeling of superfluousness about this latest spoof of the '70s-era Blaxploitation flick, directed by Scott Sanders from a story idea by its muscular star, Michael Jai White. White, with regulation Afro and half-moon 'tache, makes for a solid, relatively camp-free, avenger. He plays a flashback-prone, ex-CIA baadasssss, who, out to avenge his murdered brother, clean up the streets and free orphanages from crack, finds that taking on the dastardly, penis-shrinking malevolence of The Man takes him – believe it, brother! – to the very centre of the white establishment.

Read the Full Movie Review at TimeOut.com
Movie Review from Telegraph.co.uk

Scott Sanders's witty, near-scholarly blaxploitation send-up has Michael Jai White as the baddest cat in town, with nunchucks in one hand and his Magnum .44 in the other. The look is grubbily authentic, the script full of joyful absurdities — it's the rare movie that's completely in quotation marks but keeps up a head of steam.

Read the Full Movie Review at Telegraph.co.uk
---
'Black Dynamite' Stars
Arsenio Hall, Buddy Lewis, Darrel Heath, Kevin Chapman, Michael Jai White, Richard Edson, Scott Sanders, Tommy Davidson
---
'Black Dynamite' Movie Links

Black Dynamite on IMDb