---
Brave (2012)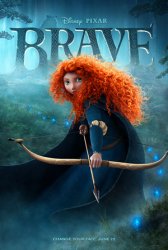 Starring: Kelly Macdonald, Billy Connolly, Emma Thompson, Julie Walters, Robbie Coltrane
Director: Mark Andrews, Brenda Chapman
Release Date:

June 22nd, 2012
Release Date:

13th August, 2012
Running Time: 93 Mins
Synopsis: Determined to make her own path in life, Princess Merida defies a custom that brings chaos to her kingdom. Granted one wish, Merida must rely on her bravery and her archery skills to undo a beastly curse.
Status:
About the Movie
Brave is a 2012 American computer-animated fantasy adventure film produced by Pixar Animation Studios and distributed by Walt Disney Pictures. It was written by Mark Andrews, Steve Purcell, Brenda Chapman, and Irene Mecchi, directed by Andrews and Chapman and co-directed by Purcell. The film's voice cast features Kelly Macdonald, Julie Walters, Billy Connolly, Emma Thompson, Kevin McKidd, Craig Ferguson, and Robbie Coltrane. To make the most complex visuals possible, Pixar completely rewrote their animation system for the first time in 25 years. It is the first film to use the Dolby Atmos sound format.
In the film, set in the Highlands of Scotland, a skilled archer named Merida defies an age-old custom, causing chaos in her kingdom. After consulting a witch for help, her family becomes cursed and Merida is forced to undo the spell herself before it is too late. Brave premiered on June 10, 2012, at the Seattle International Film Festival, and was released in North America on June 22, 2012, to both positive reviews and box office success.
Preceding the film is a short film entitled La Luna, directed by Enrico Casarosa.
---
'Brave' Stars
Billy Connolly, Brenda Chapman, Emma Thompson, Julie Walters, Kelly Macdonald, Mark Andrews, Robbie Coltrane
---
'Brave' Movie Links

Brave on IMDb


Brave on Wikipedia