---
Braveheart (1995)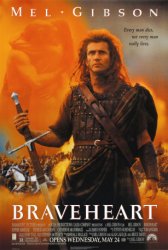 Starring: Mel Gibson, Sophie Marceau, Patrick McGoohan, Catherine McCormack, Brian Cox
Director: Mel Gibson
Release Date:

May 24th, 1995
Release Date:

8th September, 1995
Synopsis: William Wallace is a Scottish rebel who leads an uprising against the cruel English ruler Edward the Longshanks, who wishes to inherit the crown of Scotland for himself. When he was a young boy, William Wallace's father and brother, along with many others, lost their lives trying to free Scotland. Once he loses another of his loved ones, William Wallace begins his long quest to make Scotland free once and for all, along with the assistance of Robert the Bruce.
Status:
About the Movie
Braveheart is a 1995 American epic/drama film directed by, produced by, and starring Mel Gibson. The film was written for the screen and then novelized by Randall Wallace. Gibson portrays William Wallace, a Scottish warrior who gained recognition when he came to the forefront of the First War of Scottish Independence by opposing King Edward I of England (also known as "Longshanks", portrayed by Patrick McGoohan), and subsequently abetted by Edward's daughter-in-law, Princess Isabelle of France (played by Sophie Marceau) and a claimant to the Scottish throne, Robert the Bruce (played by Angus Macfadyen).
The film won five Academy Awards at the 68th Academy Awards, including the Academy Award for Best Picture and Best Director, and had been nominated for an additional five.
---
'Braveheart' Stars
Brian Cox, Catherine McCormack, Mel Gibson, Patrick McGoohan, Sophie Marceau
---
'Braveheart' Movie Links

Braveheart on IMDb