---
Burlesque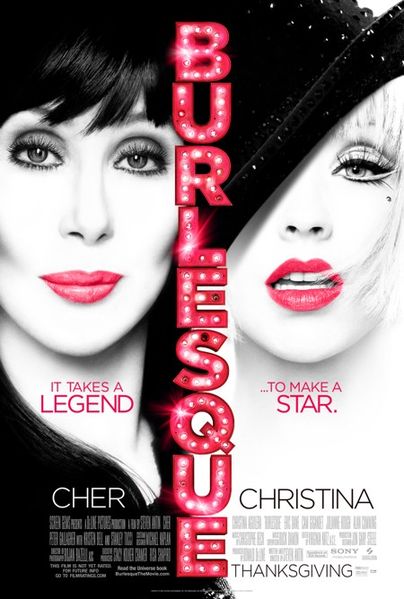 Starring: Cher, Christina Aguilera, Kristen Bell, Cam Gigandet, Stanley Tucci, Alan Cumming
Director: Steven Antin
Release Date:

November 24th, 2010
Release Date:

17th December, 2010
Synopsis: Ali is a small-town girl with a big voice who escapes hardship and an uncertain future to follow her dreams to Los Angeles. After stumbling upon The Burlesque Lounge, a majestic but ailing theater that is home to an inspired musical revue, Ali lands a job as a cocktail waitress from Tess, the club's proprietor and headliner.
Status:
About the Movie
Burlesque is an upcoming American contemporary musical film directed and written by Steve Antin starring Cher and Christina Aguilera.
---
Movie Reviews
Movie Review from EmpireOnline.com

Very occasionally, there are films that can only be enjoyed ironically. This is one of them. If writer-director Steven Antin and his team set out to parody the little-girl-with-a-big-dream trope, they are filmmakers of considerable skill. If this is a straightfaced story, then it's on near-Glitter or Showgirls levels. But unlike those two turkeys, whether you're laughing with this or at it, Burlesque has enough energy and pizzazz to keep you laughing throughout.

Read the Full Movie Review at EmpireOnline.com
Movie Review from TotalFilm.com

Oh God, it's terrible. The plot is threadbare (Christina Aguilera's farm girl Alice becomes waitress in an LA Burlesque club, has great pipes, if only she could find a place to sing…), the acting is atrocious and the love scenes cringey. There are lines in it as creaky as mentor figure Cher, more montages than MTV and enough hair pieces to get Dolly Parton hot and bothered. It's a mystery why anyone is in it. There is zero evidence of anything approaching authenticity. But God, it's wonderful.

Read the Full Movie Review at TotalFilm.com
Movie Review from Hollywood.com

The term "burlesque," for the uninitiated, refers to a specific brand of female striptease that incorporates flamboyant costumes, elaborate choreography, kitschy songs, and various other elements to which heterosexual men are largely indifferent. But it's wildly popular in other circles — so much so, in fact, that it has earned its very own film, titled, oddly enough, Burlesque. Written and directed by music video veteran Steven Antin, Burlesque is fashioned loosely as a camp homage to the 2000 film Coyote Ugly. Stage and screen legend Cher, brought to life by an innovative blend of animatronics and CGI, stars as Tess, the brash, tough-as-nails proprietress of Hollywood's almost unbearably fabulous Burlesque Lounge.

Read the Full Movie Review at Hollywood.com
Movie Review from TimeOut.com

'Burlesque' stars the singer Christina Aguilera as a plucky Midwesterner making it big in a Los Angeles burlesque club and Cher (or is that a life-sized Cher mannequin?) as her mentor. The movie has three potential audiences. None will leave empty-handed. None will be truly sated. Musical fans excited to see an all-singing, all-dancing rags-to-riches rollercoaster spectacular will probably feel least cheated. With form in music videos and live burlesque, debut writer-director Steven Antin knows how to put on a show and mean it. He throws spangly, 'Chicago'-style production numbers at the screen like King Kong hurling cars down Fifth Avenue.

Read the Full Movie Review at TimeOut.com
Movie Review from Movies.com

Not good enough or moving enough or musically engaging enough to be memorable and not hilariously horrible enough a piece of failed art to qualify as actual camp, this movie falls right down into the worst sinkhole of all, the middling pit of mediocrity and memory failure. Blame it on Steve Antin's trite script, his direction that values "shiny" over everything else, zero forward momentum or suspense over the characters' fate, all the bohemian qualities of the average MBA–no lie, this is a movie where the plot hinges on people understanding how to exploit real estate "air rights" for their own benefit–and, most sad of all, poor Cher's inability to move any part of her face that isn't the mouth.

Read the Full Movie Review at Movies.com
Movie Review from Telegraph.co.uk

Not enough films hit the sweet spot that Burlesque does between ridiculous, flagrantly decrepit and yet game enough in spangly execution to sweep you along. From the moment Cher strides through the curtain as the queen bee of a Sunset Strip revue joint – all eager sparkle and ambient uplighting, if barely on speaking terms with actual burlesque – you know that at least one element of class is going to survive intact, holding the film's seams together with the weary, seen-it-all panache of a slumming diva. "You are in my mirror because?", she quizzes Christina Aguilera, who plays the thrusting ingénue fresh off a Greyhound bus from Randomsville, Iowa.

Read the Full Movie Review at Telegraph.co.uk
---
'Burlesque' Stars
Alan Cumming, Cam Gigandet, Cher, Christina Aguilera, Kristen Bell, Stanley Tucci, Steven Antin
---
'Burlesque' Movie Links

Official Burlesque Movie Website


Burlesque on IMDb