---
Cats & Dogs: The Revenge of Kitty Galore (2010)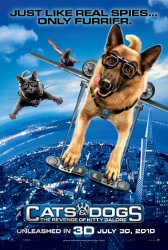 Starring: Alec Baldwin, Michael Clarke Duncan, Chris O'Donnell, Joe Pantoliano, Bette Midler, Roger Moore, Jack McBrayer
Director: Brad Peyton
Release Date:

July 30th, 2010
Release Date:

4th August, 2010
Synopsis: In the age-old battle between cats and dogs, one crazed feline has taken things a paw too far. Kitty Galore, formerly an agent for cat spy organization MEOWS, has gone rogue and hatched a diabolical plan to not only bring her canine enemies to heel, but take down her former kitty comrades and make the world her scratching post. Faced with this unprecedented threat, cats and dogs will be forced to join forces for the first time in history in an unlikely alliance to save themselves, and their humans.
Status:
Cats & Dogs: The Revenge of Kitty Galore Movie Trailer
About the Movie
Cats & Dogs: The Revenge of Kitty Galore (known simply as Cats & Dogs 2) is a 2010 American family film directed by Brad Peyton. The film is a sequel to 2001′s Cats & Dogs. It stars Chris O'Donnell, Jack McBrayer, Christina Applegate, Michael Clarke Duncan, Sean Hayes, James Marsden, Bette Midler, Joe Pantoliano, and Katt Williams. Tobey Maguire and Alec Baldwin do not reprise their roles as Lou and Butch from the first film; instead, Neil Patrick Harris and Nick Nolte voice Lou and Butch, respectively.
The film was released on July 30, 2010, and was also released in 3D. Preceding the film is a new 3D short with Wile E. Coyote and Road Runner titled "Coyote Falls".
---
Movie Reviews
Movie Review from EmpireOnline.com

This ungainly, cheaper-looking sequel to the chirpy CG-assisted cats (bad) versus dogs (good) comedy, opts for littering the place with movie references over soppy family adventure. But apart from the delightful pet-themed Maurice Binder credit sequence it aims low — dogs and cats must set aside years of 'petty' rivalry to stop a furless megalomaniac (still a cat) via four-legged skits on Bond, Silence Of The Lambs, and (with unfortunate timing) Lethal Weapon.

Read the Full Movie Review at EmpireOnline.com
Movie Review from TotalFilm.com

From Dame Shirley Bassey's theme song and Sir Roger Moore's voice cameo to the presence of an evil henchcat with metal teeth, the Bond nods come fast and furious in this belated sequel to the 2001 CGI-athon.

Read the Full Movie Review at TotalFilm.com
Movie Review from Guardian.co.uk

Not even an exceedingly cute beagle in a roll-neck pullover and spectacles can rescue this charmless live-action and 3D animated kids' caper. The boffin beagle is a spy, in charge of bringing down Kitty Galore (voiced by Bette Midler, giving it some welly), a bald Siamese with Blofeld-style villainous designs on world domination. Weirdly, the pooch agents on her tail seem to be on a different script completely, reeling off witless global terror jargon (there's an iffy, out-of-place joke about waterboarding when a German shepherd interrogates a cat).

Read the Full Movie Review at Guardian.co.uk
Movie Review from TimeOut.com

A James Bond/'Mission: Impossible' pastiche mixing live action with talking CG animals, this 3D sequel to 2001's witless farrago is such an irredeemable failure that, judging by the silent reaction of every child at the screening, I would guess they would rather have been at home doing trigonometry. No improbable stone is left unturned as the convoluted '60s-style spy caper unfolds to present a tale of conflict between two of mankind's most popular pets.

Read the Full Movie Review at TimeOut.com
Movie Review from Movies.com

Great movies for children are the ones that age well as the child grows up and remain beloved even into adulthood. This won't be one of those. But that doesn't mean its totally worthless. It isn't as bad as the first one that came out back in 2001, the one that most kids won't even remember existed, and it's both funnier and faster moving.

Read the Full Movie Review at Movies.com
---
'Cats & Dogs: The Revenge of Kitty Galore' Stars
Alec Baldwin, Bette Midler, Brad Peyton, Chris O'Donnell, Jack McBrayer, Joe Pantoliano, Michael Clarke Duncan, Roger Moore
---
'Cats & Dogs: The Revenge of Kitty Galore' Movie Links

Cats & Dogs: The Revenge of Kitty Galore on IMDb