---
Max Payne (2008)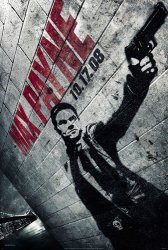 Starring: Mark Wahlberg, Mila Kunis, Beau Bridges, Ludacris, Donal Logue, Chris O'Donnell, Joel Gordon
Director: John Moore
Release Date:

October 17th, 2008
Release Date:

14th November, 2008
Synopsis: Maverick cop Max Payne is hell-bent on revenge against those responsible for the brutal murder of his family and partner. His obsessive investigation takes him on a nightmarish journey into a dark underworld. As the mystery deepens, Max is forced to battle enemies beyond the natural world and face an unthinkable betrayal.
Status:
About the Movie
Max Payne is a 2008 noir action film loosely based on the 2001 video game of the same name by Remedy Entertainment. It was written by Beau Thorne and was directed by John Moore. The film stars Mark Wahlberg in the title role as Max Payne, Mila Kunis as Mona Sax, Chris "Ludacris" Bridges as Jim Bravura and Beau Bridges as BB Hensley. The film revolves around revenge, centering on a policeman's journey through New York City's criminal underworld, as he investigates the deaths of his wife and child.
Filming took place between March and May 2008. Extensive visual effects were used in many scenes throughout the film. Max Payne was released on October 16, 2008 in Australia, one day prior to the United States release date. Reviews were mostly negative, and some critics cited the film's numerous differences from the video game on which it is based. Despite the negative reviews, the film was able to take the top spot in the box office in its opening weekend and gross more than $85 million worldwide. Max Payne was released for home video on January 20, 2009.
---
Movie Reviews
Movie Review by Marty Meltz
Quality – 4 out of 10
Stylishly dumb. But dumb.
The rating was changed from R (rightfully) to PG-13 when the production's marketing dept. realized that the only likely audience for this is teenagers. It's actually well into the R range for ugly violence.
This is a real shame for Mark Wahlberg who is totally wasted in a highly intelligence-challenging film of shooting effects and a monotonous atmosphere. Also, Wahlberg should never be given humorless roles. He's reasonably effective as an action hero but he's too basically somber to carry a whole film without a pace breaking chuckle here and there. The monochromatic hues of the settings succeed only in keeping you in a dulled-out grip of perpetual night. In fact, that's about it — a brazen movie of style over substance.
Based on the high octane rough 'n ready interactive video game. Max Payne is a maverick cop on a revenge trip in search of the killers of his family and partner. He is a man obsessed, no force on earth being enough to stop him. But his quest will be nightmarish, taking him deep, deep into a dark, filthy and menacing underworld. Indeed, his enemies may not even be of this world and the betrayals will be catastrophic.
The story has it that there are these "rooms" to be entered whose sole purpose appears to be to allow Payne to kill and then reload to kill again.
The background would have us understand that there was a military experiment gone awry, one having to do with Valkyrie, a bright blue liquid drug which gives the user the feeling that he's invincible. He also gets to possess the mighty fighting spirit of the classic Norse mythological gods which now appear in all their glory. (Ya gotta be kidding!) As his partner in all this, he's got Russian mobster Mila Kunis.
Coherence and suspense are totally elbowed aside in favor of the "cool" special effects and stylized mood, which can get sleep-inducing after awhile.
Everything rides to peak, obviously, when Max Payne takes this drug so to start his colossal revenge quest.
If this dude Payne is supposed to be appealing, well . . .

Read More Movie Reviews at Marty at the Movies
Movie Review by Marty Thompson
Rating – 2.5 out of 10
Max Payne is a maverick cop – a mythic anti-hero – determined to track down those responsible for the brutal murders of his family and partner. Hell-bent on revenge, his obsessive investigation takes him on a nightmare journey into a dark underworld. As the mystery deepens, Max is forced to battle enemies beyond the natural world and face an unthinkable betrayal.
I had the usual high expectations going into this movie, as I normally do with any new Wahlberg movie. Having high expectations for a movie can never be good, can it? Not knowing much about the video game or the plot of the movie helped, as I was going in blind, and that's almost always a good thing for me.
I was pretty excited to see Mila Kunis, too. Ever since "Forgetting Sarah Marshall" I've been kind of jonesing for her. I'm not quite sure she fit the character, but she did a passible job as the movie lacked the seriousness it needed anyway.
I can't say that Wahlberg did a bad job either, he was his typical self. He's been more of an icon than an actor as of late, and his presence alone in an action movie is enough to make the movie worthwhile.
I was a little taken back by Beau Bridges. I think this movie would have been better with someone else playing his character. I've just never really liked him all that much and I think he stunk it up in this movie. His character really had a shot to stand out, and Bridges dropped the ball.
The plot was loose, maybe a little jumbled, and most of the supporting actors were bad. The story tried to sneak up on you with a twist here and there, but mostly it was pretty predictable, with the average "guy lost everything now seeks revenge" theme. Which I like. Kind of reminded me of "The Punisher".
There were minor roles by Ludacris and Chris O'Donnell that were decent at best. You can't really blame the actors for under-performing in a movie that doesn't quite draw emotion from the actors, and has almost zero character development for everyone except Wahlberg.
You probably think I didn't like the flick with the way I've been ranting and complaining, but you're wrong. It was decent. Don't see it in the theater though. It's a good lazy action film to sit at home and zone and watch, as you don't really need to pay real close attention, you can just sit back and enjoy the ride with this one.

Read More Movie Reviews at Music and Movie Reviews
---
'Max Payne' Stars
Beau Bridges, Chris O'Donnell, Donal Logue, Joel Gordon, John Moore, Ludacris, Mark Wahlberg, Mila Kunis
---
'Max Payne' Movie Links

Official Max Payne Movie Website


Max Payne on IMDb