---
The Other Guys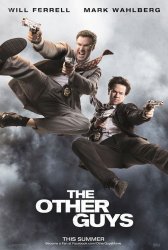 Starring: Will Ferrell, Mark Wahlberg, Michael Keaton, Samuel L. Jackson, Dwayne Johnson, Eva Mendes
Director: Adam McKay
Release Date:

August 6th, 2010
Release Date:

17th September, 2010
Synopsis: New York City Police Detectives Christopher Danson and P. K. Highsmith are the toughest and most famous cops in the city with the best capture rate no matter what it takes to get their man, even if the city must pay $12 million in property damages to capture a small crook. However, in their ranks, there are two other detectives that are want-to-be heroes sitting in the wings. Detective Allen Gamble and Terry Hoitz just want their chance in the sun to make a big collar and get a medal too.
Status:
The Other Guys Movie Trailer
About the Movie
The Other Guys is a 2010 action-comedy crime film directed and co-written by Adam McKay. The film stars Will Ferrell and Mark Wahlberg, and co-stars Dwayne Johnson, Samuel L. Jackson, Michael Keaton, Eva Mendes, Steve Coogan, and Ray Stevenson. It was released on August 6, 2010. This film is the fourth collaboration between Ferrell and McKay.
---
Movie Reviews
Movie Review from EmpireOnline.com

After the one-two punch worries about overexposure and the box office flop that was Land Of The Lost, Will Ferrell is probably glad to be back in the comfortably collaborative arms of Adam McKay, his cohort on such classics as Anchorman and Talladega Nights. The Other Guys isn't as consistently entertaining as those two, since it also tries to hew to the plot, in which the threat comes across more like a Michael Moore documentary than a solid reason for the boys in blue to get involved.

Read the Full Movie Review at EmpireOnline.com
Movie Review from TotalFilm.com

Aside from a shared penchant for getting it all out on screen, Will Ferrell and Mark Wahlberg have little in common. Ideal casting, then, for an odd-couple cop comedy, especially one under pressure to re-fuel a genre that's recently run on empty (see Kevin Smith's creaky Cop Out). It's a buddy movie behind the scenes too, Ferrell re-teaming with director Adam McKay for a fourth time after Talladega Nights, Anchorman and Step Brothers.

Read the Full Movie Review at TotalFilm.com
Movie Review from Hollywood.com

Rumors of Will Ferrell's demise have been greatly exaggerated. After falling from his perch atop the comedy world with a trio of high-profile disappointments, Semi Pro, Land of the Lost, and Step Brothers, the venerable funnyman seemed destined to join the tragic ranks of fellow SNL alums Mike Myers and Eddie Murphy, comic geniuses who fell prey to their own spectacular success. But he makes a triumphant return to form in The Other Guys, a riotous action comedy from longtime Ferrell collaborator Adam McKay (Anchorman, Talladega Nights).

Read the Full Movie Review at Hollywood.com
Movie Review from Guardian.co.uk

Fans of Anchorman: The Legend of Ron Burgundy will know what to expect of a new film by its director, Adam McKay, the comedy powerhouse and co-creator, with Will Ferrell, of the Funny or Die website. McKay directs and co-writes this relentlessly silly, tasteless and very funny story of two New York cops: one is a regular tough guy, played by Mark Wahlberg, who as a punishment for a terrible mistake on duty is humiliatingly partnered with an irritating bespectacled beta-male, new on the force, played by Ferrell.

Read the Full Movie Review at Guardian.co.uk
Movie Review from TimeOut.com

A great running gag is a tricky thing to pull off: get it right and you're looking at a bottomless well of laughs, get it wrong and you've got a predictable, tiresome joke that just won't die. 'The Other Guys' may lack depth, insight, ambition or artistic integrity. But with no less than three successful running gags – one involving four tramps having sex in a cop car – it's hard to imagine a sane audience complaining. The other guys are Allen (Will Ferrell) and Terry (Mark Wahlberg).

Read the Full Movie Review at TimeOut.com
Movie Review from Movies.com

I did, in fact, laugh a whole lot at Cop Out. I'm not going to pretend I didn't. And this one is a parody of the mismatched buddy cops genre just like Cop Out. And it drags near the end just like Cop Out did. But it dives deeper into absurdity, stars two men who connect better on camera and pops off weird jokes in the moments normally reserved for dead air. But best of all it pushes Mark Wahlberg into what seems like an impersonation of Andy Samberg impersonating Mark Wahlberg and allows Will Ferrell a chance to be funny and kinda-sorta grown up at the same time.

Read the Full Movie Review at Movies.com
---
'The Other Guys' Stars
Adam McKay, Dwayne Johnson, Eva Mendes, Mark Wahlberg, Michael Keaton, Samuel L. Jackson, Will Ferrell
---
'The Other Guys' Movie Links

Official The Other Guys Movie Website


The Other Guys on IMDb