---
Soul Men (2008)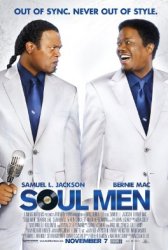 Starring: Samuel L. Jackson, Bernie Mac, Jennifer Coolidge, Sean Hayes, Isaac Hayes, Ken Davitian, Sharon Leal
Director: Malcolm D. Lee
Release Date:

November 7th, 2008
Synopsis: Two former backup soul singers Louis and Floyd travel cross country to perform at a tribute concert in honor of their famous former band leader. They haven't spoken to each other in 20 years but reluctantly agree to travel together for the tribute performance.
Status:
About the Movie
Soul Men is a 2008 American music-comedy-drama film directed by Malcolm D. Lee and written by Matthew Stone and Rob Ramsey. It stars Samuel L. Jackson and Bernie Mac. It was released on November 7, 2008.
Isaac Hayes and Bernie Mac both died in unrelated circumstances in August 2008. Director Lee said the film was heavily re-edited to soften the tone of the film, as a tribute to the two actors.
Two former backup soul singers, Louis (Samuel L. Jackson) and Floyd (Bernie Mac) who have not spoken to each other in 20 years reluctantly agree to travel across the country together to a reunion concert to honor their recently deceased lead singer Marcus Hooks (John Legend). Cleo (Sharon Leal), a beautiful young woman in an abusive relationship, who is believed to be Floyd's daughter accompanies them as a new singer. A few problems come their way involving Cleo's wanna-be gangsta rapper boyfriend (Affion Crockett), Floyd's fling with a white woman (Jennifer Coolidge) and a lot more leading up to their big performance at the Apollo Theater, and the two Soul Men reform a bond that they lost 20 years ago.
---
Movie Reviews
Movie Review by Marty Meltz
Quality – 7 out of 10
Is it possible to view profane language as a verbal art form in itself? Well, let's do it, says "Soul men."
This is a deftly assembled movie which marches to a hard beat and in which the river of vile verbiage actually gets integrated into the film's whole design, making itself even indispensable. The particular brand of black putdown banter, inexorably evolved over the decades, is humor from the gut, a no-nonsense "vulgarity" which actually transcends the conventional way in which dirty words are used and flows naturally as its own tongue, smoothly and expressively instead of in the nasty, intrusive way of films which often seem to drag in obscene words just because the writers and directors think we expect them.
This is an unintentionally ironic title, with Bernie Mac having actually died tragically in August.
It's actually hard to categorize this film in terms of genre. It's definitely drama but its substance invites comedy at a crude but colorful way and lets it flow organically. Most delightful is the perfect pitch performance of Samuel L. Jackson, easily one of Hollywood's most versatile stars. Of no lesser impact is a vigorous job done by Bernie Mac.
In this memory lane road film, the two key characters had been back-up singers of a long-ago popular group, now aged and of no more use to the modern media world. Seems that promoters are urging them, now 20 years later, to rejoin in order to offer tribute to their once lead singer who has just died. This will be dicey because the two men bear mutual resentment, this stemming from a love rivalry over the same woman.
First of all, Floyd (Bernie Mac) is morose anyway, living a life of aimless leisure as an insomniac with a hip replacement. And Louis (Samuel L. Jackson), now a pauper, has nonetheless retained his pride even though he's an ex-con living in cellars.
So they set out from L.A. in Floyd's vintage chartreuse Eldorado convertible for the great musical reunion at Harlem's Apollo, all the while chasin' skirts as they pop into town after town with Floyd poppin' Viagra. They'll partake of the fast musical life of Memphis as they stop in cowboy roadside taverns and anyplace else where they can do a gig and bring down the house, all the time viewing each other with shared antagonism. A significant plot turn comes when the two men stop at the home of lovely Cleo (Sharon Leal), whom we gather is the daughter of one of them, probably the bone of contention for both.
Strangely, you will find yourself chuckling again and again at the two guys' digs at each other even though you sense a vital relationship here. It's not easy viewing, but then, almost immediately, you sense that you wouldn't want that.

Read More Movie Reviews at Marty at the Movies
---
'Soul Men' Stars
Bernie Mac, Isaac Hayes, Jennifer Coolidge, Ken Davitian, Samuel L. Jackson, Sean Hayes, Sharon Leal
---
'Soul Men' Movie Links

Official Soul Men Movie Website


Soul Men on IMDb