---
Old Dogs (2009)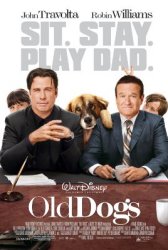 Starring: John Travolta, Justin Long, Robin Williams, Seth Green, Kelly Preston, Matt Dillon, Lori Loughlin, Bernie Mac
Director: Walt Becker
Release Date:

November 25th, 2009
Release Date:

19th March, 2010
Synopsis: Two friends and business partners find their lives turned upside down when strange circumstances lead to them being placed in the care of 7-year-old twins. Charlie and Dan are two best friends and co-workers. They apparently have no clue about the importance of family and what life is truly about. Dan's ex-wife, Vicki ,shows up after a long period of time and announces she and Dan have seven-year-old twins: a son and a daughter. Now Dan recruits Charlie and together they have to take care of the twins and a dog. With help from a co-worker, Ralph, they go from outdoor activities with the kids and a rough instructor, Yancy Devlin, to enduring a flamboyant children's entertainer, Jimmy Lunchbox, and eventually they will learn the true meaning of life and family. It is also Bernie Mac's final film.
Status:
About the Movie
Old Dogs is a 2009 American comedy film directed by Wild Hogs's Walt Becker and starring John Travolta and Robin Williams with supporting roles played by Kelly Preston, Matt Dillon, Justin Long, Seth Green, Rita Wilson, Dax Shepard and Bernie Mac. It was released in theaters on November 25, 2009 and will be released on DVD March 9th, 2010.
The movie is dedicated to both Bernie Mac (who died in August 2008 and had his final cameo role in the film) and Jett Travolta (John Travolta's son who died in January 2009).
Old Dogs received poor reception from film critics. The Orlando Sentinel called the film "badly written and broadly acted." The Chicago Daily Herald said the film "should be put out of our misery." The San Jose Mercury News and The Boston Globe both described the film as a "turkey." Reviews in the Milwaukee Journal Sentinel and AV Club said the movie was not recommended for adults or children.
Despite the negative criticism, it was a minor box office success, beating its budget.
---
Movie Reviews
Movie Review from TotalFilm.com

Wild Hogs director Walt Becker dips back into the pudgy, middle-aged buffoon well with this turgid semi-sequel that pits over-the-hill BFFs John Travolta and Robin Williams against a couple of precocious seven-year-olds, after Williams' ex-girlfriend (Kelly Preston) drops them into his life.

Read the Full Movie Review at TotalFilm.com
Movie Review from Hollywood.com

No, Bernie Mac hasn't returned from the dead. His last film, the family comedy Old Dogs, in which he enjoys a forgettable cameo, just sat on the shelf for a while before Disney finally decided to release it. And now we know why: It's bad. Unspeakably bad. Directed by Walt Becker, the man who gave us Wild Hogs, Old Dogs fails to even measure up to the low standards set by that mediocre (and absurdly successful) comedy.

Read the Full Movie Review at Hollywood.com
Movie Review from Guardian.co.uk

This is a Disney family comedy starring Robin Williams and John Travolta, and … I know what you're thinking. Stop. Stop now. Stop before the quality of all our lives is permanently cheapened. In the name of merciful Christ and all the saints and martyrs, stop writing now about a Disney family comedy starring Williams and Travolta as middle-aged hombre bachelors who run a sports marketing firm and have to look after two adorable little kids. Please, not a keystroke more on this abysmal subject. Stop now – the way you might stop talking about the recent violent murder of a much-loved clergyman, whose tearful widow has just walked into the room. But as Samuel Beckett might have put it: "You must go on. I can't go on. You must go on. I'll go on. Hold it – a Disney family comedy starring Williams and Travolta? I seriously don't think I can go on."

Read the Full Movie Review at Guardian.co.uk
Movie Review from TimeOut.com

Taking into account films like 'Patch Adams', 'RV' and 'License to Wed', Robin Williams's acting CV now has more bizarre blotches on it than an abstract expressionist canvas. Even so, 'Old Dogs' is a special kind of bad. Here he plays a vile corporate shitbag who is charged with the unspeakable task of caring for his own children (the result of a drunken fling in Miami)… for two whole weeks.

Read the Full Movie Review at TimeOut.com
Movie Review from Movies.com

Is it possible to make a citizen's arrest of people who create despicably, incomprehensibly evil movies like this? I don't mean the supporting cast like Luis Guzman or Amy Sedaris or Seth Green. They're just getting paid and have no control anyway. I mean producers and directors (from the man who made Wild Hogs and the forthcoming Wild Hogs 2) and stars who have clearly lost contact with humanity.

Read the Full Movie Review at Movies.com
Movie Review from Telegraph.co.uk

Outright hysteria was reached somewhere in the middle of Old Dogs, an over-the-hill buddy comedy of such singular dreadfulness it managed to halt time, fold space and play havoc with the very notion of the self. By the end I WAS Robin Williams and John Travolta. This is not a feeling I recommend, or wish to experience again.

Read the Full Movie Review at Telegraph.co.uk
---
'Old Dogs' Stars
Bernie Mac, John Travolta, Justin Long, Kelly Preston, Lori Loughlin, Matt Dillon, Robin Williams, Seth Green, Walt Becker
---
'Old Dogs' Movie Links

Old Dogs on IMDb