---
Takers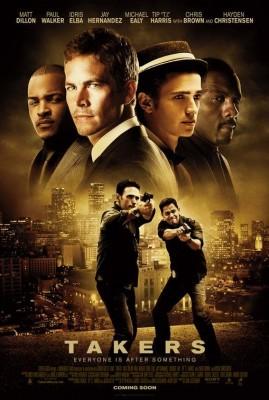 Starring: Chris Brown, Hayden Christensen, Matt Dillon, Michael Ealy, Idris Elba, Steve Harris
Director: John Luessenhop
Release Date:

August 27th, 2010
Release Date:

1st October, 2010
Synopsis: A group of five exceptional bank robbers have been able to successfully rob several banks with such perfect execution that the police do not have a single clue to capture them. These criminals treat each robbery as a business plan that works. First, they plan each job with clockwork precision and are extremely careful in not leaving any evidence behind. Second, they fence the money to get it clean. Third, they all lay low for one year between jobs to not bring any attention to themselves. They decide to pull off one last heist that will be their biggest score, by taking out an armored-car.
Status:
About the Movie
Takers (formerly known as Bone Deep) is a 2010 crime action film directed by John Luessenhop from a story and screenplay written by Luessenhop, Gabriel Casseus, Peter Allen, John Rogers and Avery Duff. It features an ensemble cast that includes Matt Dillon, Chris Brown, Idris Elba, T.I., Jay Hernandez, Paul Walker, Hayden Christensen and Zoë Saldaña. The film was released on August 27, 2010.
---
Movie Reviews
Movie Review from TotalFilm.com

We're takers, gents," growls Idris Elba's bank robber to his crew. "It's what we do for a living." And take's exactly what John Luessenhop's film does: from Heat, Point Break and every other modern urban crime thriller in which well-drilled thieves go toe-to-toe with dogged lawmen. But just because you know what you're getting, doesn't mean you won't like what you get. And while Takers never dares to veer from the basic cops-and-robbers formula, especially when it comes to admitting women into its testosterone-lacquered locker room, it remains a slickly satisfying genre exercise with sufficient thrills, spills and frills to keep you hooked.

Read the Full Movie Review at TotalFilm.com
Movie Review from Hollywood.com

The record of rappers becoming actors is decidedly mixed. Eminem drew praise for his semi-autobiographical turn in 8 Mile, while his Detroit neighbor, Curtis "50 Cent" Jackson, was largely panned for his work in his 2005 biopic Get Rich or Die Tryin'. Ice Cube and Ice T have both earned steady paychecks, and occasional acclaim, on the big and small screens, while the less-esteemed member of the Brothers Ice, Vanilla, never quite recovered from 1991's disastrous Cool as Ice.

Read the Full Movie Review at Hollywood.com
Movie Review from TimeOut.com

You need to be smart to come up with anything new in the heist-gone-wrong genre, but this at least has a couple of inventive robberies (kids, you'll need a helicopter, explosives and detailed knowledge of disused metro tunnels to try this at home). Beyond that, it falls into the trap of having so many characters there's no room for them all to register, so while Matt Dillon's cop is mildly world-weary, on the criminal side, some gangsters get more fulsome problems than others.

Read the Full Movie Review at TimeOut.com
Movie Review from Movies.com

I think I just watched the first-ever dramatic feature from the guys who made Vampires Suck. It was called Heist Movie and it was about this heist where everything you see is something else you've seen before. And then I fell asleep and when I woke up some guys were shooting at each other. One of them was Paul Walker and one of them was Hayden Christensen but I can't tell them apart so don't ask me which one was which. In a recent interview, rapper/co-star T.I. compared this movie to Ocean's Eleven.

Read the Full Movie Review at Movies.com
Movie Review from Telegraph.co.uk

Meanwhile, the director of Takers, a try-hard heist movie of clomping unoriginality and self-regard, is labouring under the embarrassing delusion that he's Michael Mann. The differences are as follows. No one is Al Pacino. No one lives in a minimalist beach house. None of John Luessenhop's set-pieces, except one excellent foot chase through an office block, is shot or edited with anything but the sketchiest spatial coherence. And Mann would not be caught dead casting that grinning skeleton Paul Walker as one of his leads.

Read the Full Movie Review at Telegraph.co.uk
---
'Takers' Stars
Chris Brown, Hayden Christensen, Idris Elba, John Luessenhop, Matt Dillon, Michael Ealy, Steve Harris
---
'Takers' Movie Links

Official Takers Movie Website


Takers on IMDb